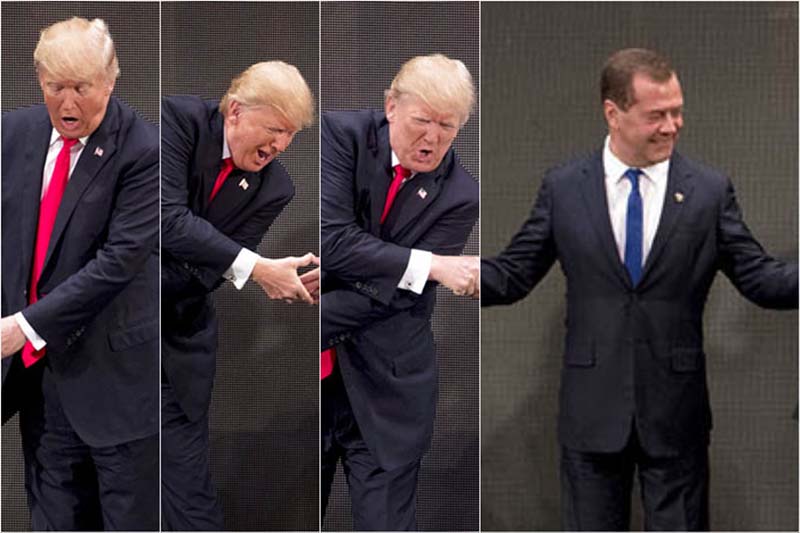 The ASEAN has a way of linking and shaking hands, which seemed to baffle President Donald Trump. Russian Prime Minister Dmitry Medvedev, in contrast, does not even break a sweat. AP/Andrew Harnik
Trump, Medvedev struggle with ASEAN handshake
(philstar.com) - November 13, 2017 - 8:14am
MANILA, Philippines — The so-called "family photo" in the Association of Southeast Asian Nations-related gatherings will not be complete without the traditional handshake—and United States President Donald Trump has been caught off guard briefly baffled by it.
Trump, who is known for his aggressive handshakes with world leaders, struggled when he took part in the customary ASEAN handshake.
The announcer's instruction to the leaders to cross their right arm over their left confused Trump, who failed in his first attempt. He simply crossed his hands in front of him, breaking the link of leaders.
After few seconds, Trump appeared to realize his mistake and linked arms with shorter leaders—Vietnamese Prime Minister Nguyen Xuan Phuc to the left and President Rodrigo Duterte to the right.
He was seen grimacing before flashing a smile.
Russian Prime Minister Dmitri Medvedev, on the other hand, did not cross his arms but the chain of leaders remained intact.
Handshakes have become a Trump trademark in his first year in office. He often pulls the other person toward him and pats or yanks in a sign meant to set a tone for the meeting ahead.
The uncomfortable gesture has become a tradition at ASEAN get-togethers.
Former ASEAN Secretary General Surin Pitsuwan said the handshake represents the bloc's solidarity among states.
"We had better consolidate ourselves and create more attraction among and between ourselves if we wish to remain the core of community-building in the region," Pitsuwan was quoted in Simon Tay's book "Asia Alone: The Dangerous Post-Crisis Divide from America."
Trump is in the country—the last stop of his Asia tour—for the ASEAN Summit and Related Meetings.
The American leader and Duterte held their first bilateral meeting Monday afternoon.
READ: Duterte, Trump talk trade in bilateral meeting
Trump said that he and Duterte have a "great relationship."
RELATED: Trump avoids discussion of human rights in meeting with Duterte
But when an American reporter tried to ask Trump if he would bring up human rights issues during the meeting, Duterte said: "We aren't taking questions. This is a bilateral meeting." — Video by Gaea Cabico and Efigenio Toledo IV