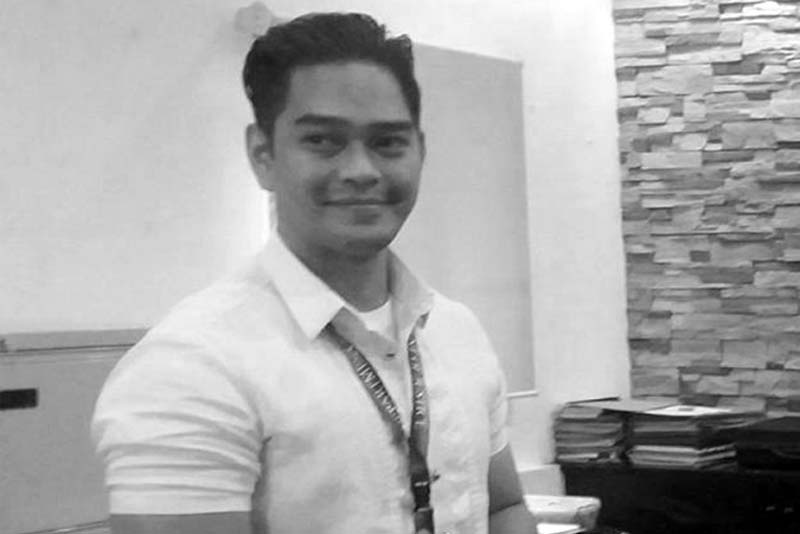 Department of Justice cybercrime investigator Ramiro Bersamina Jr.
'Invaluable soldier' against cybercrime passes away
(philstar.com) - September 14, 2017 - 9:00am
MANILA, Philippines — One of the government's most active, invaluable soldiers in its fight against cybercrime succumbed to injuries as he was rushed to the hospital after a road accident on Wednesday night.
Known for his courage, persistence and dedication, Investigation Agent III Ramiro Bersamina Jr. passed away in Quezon City when, mounted on a motorcycle, he was hit by a bus on an elevated highway.
Colleagues of Bersamina at the Department of Justice's cybercrime division trooped to his house on Thursday morning to pay their respects and assist in the preparation of the wake. The office's shock and dismay at the incident is testament to how the agent was valued as a member of the department's newest units.
Even at a young age of 29, Bersamina already had to his name a citation from the United States Department of Homeland Security Investigations for helping track down a notorious American pedophile.
It was just in January this year that the US agency expressed its gratitude to Bersamina for helping in the arrest of Calvin Bernhardt. The American fugitive, who is convicted on a string of child exploitation charges, was arrested in May 2016 through the aid of the National Bureau of Investigation-Anti Human Trafficking Division and Bersamina's division.
It was Bersamina's long hours of work and "invaluable assistance to the investigation" that led to the capture of the fugitive.
The US agency's attaché, Ransom Avilla, personally handed Certification of Recognition from the US Department of HIS.
Bersamina was then working under then-Justice Secretary Leila De Lima. He continued to serve the public, under the leadership of sitting Justice Secretary Aguirre who likewise lamented the loss of one of DOJ's "very active soldiers."
"Our fight against cybercime lost a valuable soldier, one who was even hailed by the US Department of Homeland Security Investigations," Aguirre said.
He asked the members of the DOJ family to pray for the eternal repose of Bersamina.
Bersamina was hit by a Five Star Bus unit while plying the EDSA-Quezon Flyover in Quezon City. He is survived by his two young children and wife.
According to the latest government statistics, an average of 34 Filipinos are killed via road accidents daily. The Department of Transportation is spearheading the Philippine Road Safety Action Plan 2011-2020, in the hopes of reducing traffic accidents by 2020.
Bersamina is a great loss to his family and country.
______
Editor's Note: Philstar.com expresses its deepest condolences to the family of Agent Ram Bersamina. His wife, editor Kristine Daguno-Bersamina, is a dearly loved and respected member of our editorial team. We grieve with their family during this rough time and appeal to authorities to take urgent action to reduce road accidents and violations.