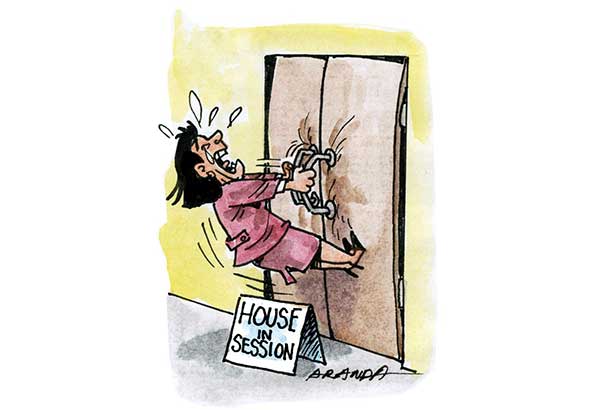 5 tardy House members shut out of session hall
(The Philippine Star) - July 25, 2017 - 4:00pm
MANILA, Philippines - Like schoolchildren, five members of the House of Representatives were shut out of the session hall yesterday as the chamber started calling the roll after opening its session at 4 p.m.
Locked out of the plenary hall were Bellaflor Castillo Angara of Aurora, Gus Tambunting of Parañaque, Suharto Mangudadatu of Sultan Kudarat, Mario Bittorio Mariño of Batangas and Ana Katrina Enverga of Quezon.
They were just a few minutes late for the session and were trying to enter the plenary hall but the doors were locked.
The roll call showed the presence of 226 of the 293 members. The rest, including the five, were considered absent.
Under a memorandum issued to all members last May 22, Majority Leader Rodolfo Fariñas said pursuant to an agreement reached in an all-party caucus held five days earlier, the roll call would be made shortly after the session is opened by the presiding officer.
"All doors leading to the session hall shall be locked and shall be opened only after the roll call," he said.
He said all those who do not respond to the call shall be marked absent even if they show up after the roll call.
He added that the timely calling of the roster of members aims to facilitate deliberations.
Rep. Lito Atienza of party-list group Buhay, the attendance watchdog in the House, congratulated the House leadership for the presence of an overwhelming number of members even if the call was made shortly after 4 p.m.
In the past, he said early birds had to wait for at least an hour before enough members show up and for a quorum to be attained.
He said he hoped that he and his colleagues could keep it up. – With Jess Diaz