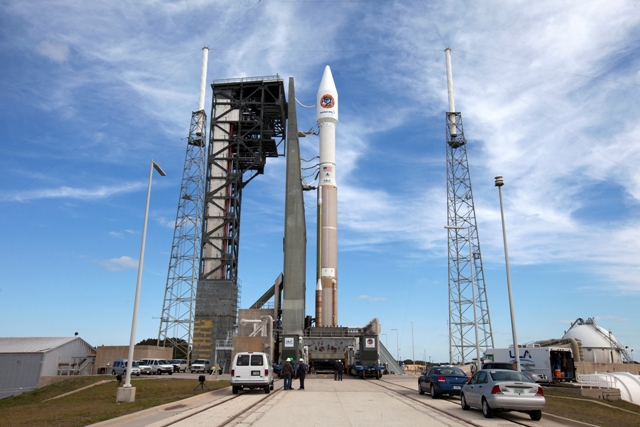 Carlos Primo David, executive director of the Department of Science and Technology's Philippine Council for Industry, Energy and Emerging Technology Research and Development (DOST-PCIEERD) in 2016, said that with the successful launch of Orbital ATK's Cygnus spacecraft that carried Diwata-1 as one of its 7,500 pounds of payload, the next step was for the release into orbit of Diwata-1 in late April. Ben Smegelsky/NASA via AP, file
Scientists seek push for research in second SONA
MANILA, Philippines — Philippine scientists hope that the current administration continues to build up research and development in the country.
The Department of Science and Technology has successfully supported micro small and medium enterprises and established innovation centers for research and development.
But some Filipino scientists believe that it is still not enough.
According to a study by Felix Libero entitled "Status and Trends in Development Communication Research in the Philippines," the developments in the field of communication refocuses the research thrusts and interests in the country.
"Trends in development communication (devcom) research have been changing fast, and variables have been shifting as well," the study explained.
'Balik scientists'
Professor Divina Amalin, who specializes in Entomology and Nematology believes that research and development is also one way to improve the economic status of the country.
She explained the issue of brain drain and how it can be eliminated by engaging 'balik scientists' and allocating more money for research.
As a 'balik scientist' herself — or one who has trained abroad and has returned to the Philippines — she believes that one of the reasons Filipino scientists leave the country is the lack of incentives to stay.
The Balik Scientist Program of the DOST seeks to encourage Filipino scientists and technologists, experts, and professionals who are trained overseas, to return to the Philippines to share their expertise for the development of science in the country.
"If given the right incentive, as well as the appropriate research money .. balik scientists will choose to stay in the Philippines," she said.
"A lot of us would like to come and help, it's just the incentive is not enough," she added.
Bigger budget, better pay needed
Proper budget, equipment, as well as the income of scientists and staff in their department is also one of the concerns of Paul Karson Alanis, a science research specialist from the Philippine Institute of Volcanology and Seismology (PHIVOLCS).
"Although maganda kasi mataas yung budget, siyempre sana dagdagan yung sahod namin .. yung sahod naaddress naman onti-onti pero siyempre parang kulang pa rin." he said.
Alanis also expressed concern over the lack of staff.
"May mga positions pa na vacant. (There are vacant positiosn) The problem is .. meron pang kulang (it is not enough)," he said.
"On paper, you should have five people under [a department] pero in reality is tatlo lang. Although 'yung dalawa on paper, open 'yun pero ang problem is, walang pera, walang budget kaya open yun," he explained.
Despite certain needs and concerns regarding the budget, both Amalin and Alanis are confident and remain hopeful that science and technology in the Philippines will continue to progress.
"I think we're growing; we're going up. With the research money that is .. now we're going up already so i still don't know kung gaano kabilis but i can see now that it's moving up," Amalin said.
"[K]ung titingnan mo yung state natin ngayon, yung term ni Erap (Joseph Estrada) na tinuloy ni GMA (Gloria Macapagal Arroyo) mas maganda naman yung [state] natin ngayon at least three times [more]," Alanis added.
In his last State of the Nation Address, President Duterte reiterated his promise to end crime in three to six months. With the amount of attention the war on drugs has received, the crime rate has dropped by 13 percent, according to records from the Philippine National Police.
But research and development still remain in the shadows.
'Government should promote science'
"[K]ay Duterte, hindi siya mahilig [sa technology]. So, ayun nga, although Secretary Fortunato De La Peña is very supportive, 'yun yung gusto ko sana marinig kay President Digong, sana 'yun bang suportahan niya yung science and technology," Alanis said.
For social scientist Czarina Saloma-Akpedonu, the scientific culture in our government will also develop if the president promotes science, expertise and competence in the country.
"This means that as social scientists, we must offer not only analysis but also practical results — and to offer practical results is to solve a problem," she said in an email interview.
Duterte is set to deliver his SONA on Monday, July 24, and a few of the scientists shared what they hope he will mention.
"I'm hoping that it will continue, that the president will give priority on all departments that will be doing research and development pero dapat tingnan yung implementation of all research that will be funded," Amalin said.
"As a social scientist, this is what I wish to hear, not only from President Duterte in his SONA, but from government officials and bureaucrats in their everyday actuations: that scientists, as well as expertise and competence, will play a more visible role in Philippine social life," Saloma-Akpedonu stated.
She also explained that social scientists such as herself should also contribute to the development of science and technology in our country.
"Through our research and teaching, we have to help those who are making social institutions work," she added.