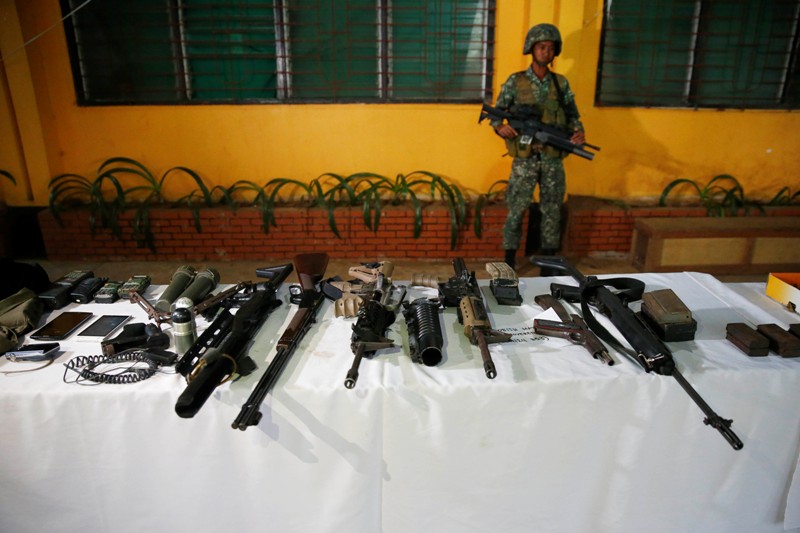 A Philippine Marine guards the display of high-powered firearms, ammunitions, uniforms and black ISIS-style flags which were recovered from Muslim militants Tuesday, May 30, 2017 in Marawi city southern Philippines. AP/Bullit Marquez, file
Shooting holes in the myth of the homemade 'Barrett' sniper rifle
LANAO DEL SUR, Philippines -- The myth of the deadliness of rebel copies of the .50-cal Barrett M82 rifle is just that -- a myth.
Outlawed Islamic militants in Marawi City have been using photos of them carrying improvised "Barrett" rifles for propaganda without even knowing these are not even as good as the bolt-action and self-loading automatic rifles of World War II.
Possession of local Barrett rifles has long been a fad in the Moro Islamic Liberation Front, which has signed a peace agreement with the government, and in the outlawed Bangsamoro Islamic Freedom Fighters that splintered from the MILF in 2010.
While there is no data on how many soldiers or militiamen have been killed with shots from afar using home-made Barrett rifles, military and private surgeons and tissue trauma specialists in at least five Mindanao hospitals are certain that no one from among the gunshot patients they have treated in the past five years was injured with a metal-jacketed 12.7x99 millimeter bullet fired from copies of the M82.
"We would know the difference immediately from x-ray films and when we cut through parts of a patient's body that we need to explore for treatment," an Army physician told The STAR on Sunday.
Even military embalmers in the Philippine Army's Camp Siongco in Datu Odin Sinsuat town in Maguindanao are sure that all of the soldiers killed in action that they have embalmed in previous years did not die from a .50-cal bullet injury.
"I'm not a doctor but with my almost 30 years experience as an embalmer, I can tell if a soldier was killed by a regular-type of rifle or an explosive," said a source, a staff sergeant.
'Not a precision weapon'
A trained sniper, Lt. Col. Harold Cabunoc, commanding officer of the Army's 33rd Infantry Battalion, said Sunday that the mythical homemade Barrett rifle cannot be called a "precision weapon" that users can rely on.
Most of the Barrett rifles recovered during military and police operations in central Mindanao in the past five years, including those seized in recent weeks from the Maute terror group in Marawi City, do not have helical grooves, or rifling, in their barrels.
The rifling ensures the aerodynamic stability of every bullet that comes out of the barrel towards a target.
Some improvised Barrett rifles are fitted with barrels of genuine .50-cal machineguns trimmed using lathe machines.
Some locally-produced Barrett rifles now in the custody of different police and Army units have rifling through sharp manual metal tapering tools and extended round files.
"There must also be perfection in the placements of bolt, bullet chamber and barrel and only the original Barrett rifles have that," Cabunoc said.
The first factory-made .50 caliber M82 Barrett rifles came out in 1982, produced by Ronnie Barrett of the Barrett Firearms Manufacturing, an American gun producer in Christiana, Tennessee. An improved version of the M82, the M82A1 came out in 1986.
Cabunoc has tested in the shooting range several copies of what is most known in Mindanao as "Barrett rifles" and found out that each can definitely kill and maim, but only within a distance of 30 to 60 meters.
"The sniping course is a very difficult course. You include in your sniping science vital studies like wind direction, target acquisition, the effects of rain and drizzle and trajectory scales," said Cabunoc, who regularly competes in rifle shooting contests.
Another rifle marksman, Lt. Col. Isagani Criste, an Army Ranger, said a sniping rifle and a sniper is a "man and machine tandem" that need years of becoming physically and mechanically correlated with each other.
"I haven't tested any home-made Barrett rifle yet. All I can say is that engineering precision is so important in rifles. There can never be substitute to the combination of sniper discipline and rifle efficiency in any combat situation. There is this thing called `demands of the machine' that we should understand in every engagement," Criste said.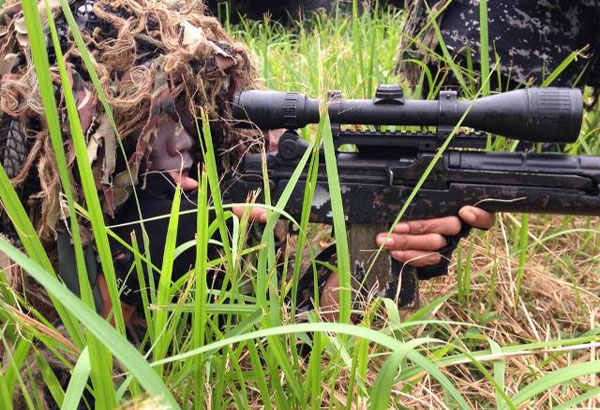 A scout sniper from the Army's First Scout Ranger Regiment. AFP, release
Shooters weigh in
An Army colonel, who requested anonymity, said he has personally studied the efficiency of homemade Barrett rifles during a friendly shooting competition between soldiers and MILF guerrillas at the former headquarters of the 603rd Infantry Brigade in Camp Iranon in Barira town in Maguindanao.
"There was immense difficulty hitting small targets from a distance of 30 meters using their 'Barrett' rifles," he said.
It was gunsmiths in the MILF who first produced the homemade Barrett rifles using genuine copies recovered from Army and Marine personnel killed in encounters at strategic stretches of the Secretary Narciso Ramos Highway in the neighboring towns of Kapatagan and Matanog, in the provinces of Lanao del Sur and Maguindanao, respectively, during the 2000 "all out war" of President Joseph Estrada against the rebel group.
Just to look good and intimidating, many of the homemade Barrett rifles that can be seen around were fitted with scopes not designed for that kind of firearm.
"Scopes also have specifications. There are scopes for long-range shooting and scopes for average distances. I have fired many captured Barrett rifles and all I can say is that all stories, stating that many of our men killed in line of duty in recent years were felled by enemy snipers using Barrett rifles, are but rumors," said Col. Markton Abo, civil-military relations officer of the Army's 6th Infantry Division.
Senior Superintendent Agustin Tello, director of the Maguindanao provincial police, who also participates in rifle and pistol shooting competitions, said he tested for curiosity's sake many of the Barrett rifles recovered by policemen in law-enforcement operations and discovered that some fired bullets that tumble while swishing through the air.
"The paper targets and the thin GI sheets we used for testing bore oblong bullet holes," Tello said.
Even multi-awarded members of the vaunted Cotabato City Pistol and Rifle Association disagree with assertions that the Moro-made Barrett is a deadly weapon of state enemy forces like the Maute terror group and the BIFF.
"Good shooters understand what bullet head weights and distances of targets are all about, the difference between slow and fast burning gunpowder and barrel length and gunpowder compensation, which cannot be learned overnight. Surely they don't have that out there," said a member of the gun club.
Criste said there are also scientific factors that are to be considered in engagements of well-trained snipers in actual combat that can affect their proficiency.
"When you are in actual combat situation, there is tension, noise, heat during the day and cold temperatures at nighttime or when it's raining. Add to that the pumping of excessive adrenaline in your system. If you can't stand or overcome all of those, you will never be a good sniper. It takes years to learn how to overcome them," Criste said.