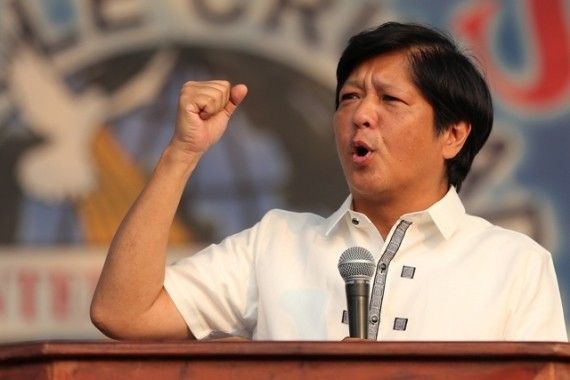 Former Sen. Ferdinand "Bongbong" Marcos claimed several friends and supporters helped him raise his first tranche for his poll protest against Vice President Leni Robredo.
AP, File
LIST: Supporters, friends who helped raise P36M for Marcos poll protest
MANILA, Philippines (Updated April 19 at 8:39 a.m.) — At least 40 friends and supporters of former Sen. Ferdinand "Bongbong" Marcos, who lost the vice presidential race in 2016, helped raise money for his poll protest against Vice President Leni Robredo.
These friends and supporters also signed an open letter addressed to the Presidential Electoral Tribunal pushing for the resolution of Marcos's protest.
The names were identified by Marcos as the donors who helped raise P36,023,000 required by the PET.
Their names and addresses were also written on the signature sheet. However, the amount of their donations were not indicated in the list.
Philstar.com made a cursory check on some of the names and found that some come from prominent families and businesses.
Fernando Peña
Peña is a former president of the Rotary Club of Makati West. He was awarded the Ninoy Aquino Medal of Valor in 2014 and was also a recipient of the Presidential Order of Merit in 2005.
Ira K. Flores and Carlos M. Farrales were both vocal supporters of Marcos during his campaign.
Valentin Prieto Jr.
Prieto is the national director of the Philippine Coast Guard Auxiliary and holds the rank of Coast Guard vice admiral.
Bienvenido Ongkiko Jr.
Ongkingco is president of Galeria de Magallanes Condominium Association Inc.
Surname of Coyiuto also appeared in the list.
The Coyiuto family is involved in several businesses as well as in the power industry. Among the prominent Coyiutos is 65-year-old Roberto Coyiuto Jr., who was named the 13th richest Filipino in 2016 by American business magazine Forbes Magazine.
He is president and CEO of Oriental Petroleum & Minerals Corp. He is affiliated with Prudential Guarantee & Assurance, PGA Cars and the National Grid Corp. of the Philippines.
Oscar Violago
Violago is the owner of San Lorenzo Ruiz Water Development Corporation and New San Lorenzo Builders.
Jose Fabian P. Carmona
Carmona is a former village official at Urdaneta, Makati City.
Alfredo D. Roa
Roa is president of the Rural Bank of Alfonso Inland Corp and an independent director of Araneta Properties Inc. Based on the bank's information sheet as of June 2013, Roa owns 37.52 percent of the bank and sits as its chairman.
Ruby Diaz Roa
Ruby is the sister of former Miss Universe Gloria Diaz. She used to own 27.15 percent of the Rural Bank of Alfonso Inland Corporation.
When asked whether the three Roas that appeared on the list are related to President Rodrigo Duterte, whose mother's maiden name was Roa, Marcos said there are several other Roas in the country.
"Well, they're Roas, so yes. But again, libo-libo 'yung Roas, Mindanao and Visayas. There are more than a hundred thousand of them. It's a huge family," Marcos said.
Gabriel Roa Limjoco
Limjoco is Ruby's daughter. She used to own 2.50 percent of the Rural Bank of Alfonso Inland Corporation.
Elizabeth Aguilar Masangkay
Masangkay is a civic leader and a businesswoman who is also the sister of Las Piñas Mayor Vergel "Nene" A. Aguilar.
Maymay Nolasco
Nolasco, also known as Kathleen "Maymay" Lior is president and CEO of KSL Corp. She is a known fragrance specialist.
Paolo Tantoco
Tantoco is one of the grandsons of Bienvenido Tantoco Sr. of retailing company Rustan's Group. Tantoco Sr. was listed as the 46th richest Filipinos of 2016 by Forbes.
Ramir Arce Romero
According to website for movie, television and celebrity content, IMDB, he is a Filipino actor who starred in the following movies: "Ikaw pa lang ang minahal" (1992), "Hihintayin kita sa langit" (1991) and "Tawagin mo ang lahat ng santo" (1997).
Jethro Dionisio
Dioniso is an award-winning shooter. He earned championship records in three Steel Challenge (World Speed Shooting Championship) crowns (1990, 1992, 1993) and three World Shoot-off Championships (1993, 1994, 1995). He owns shooting ranges and gun stores in Metro Manila.
Editor's note: The latest update reflects clarificatory edits and a correction of Mr. Coyiuto's age.