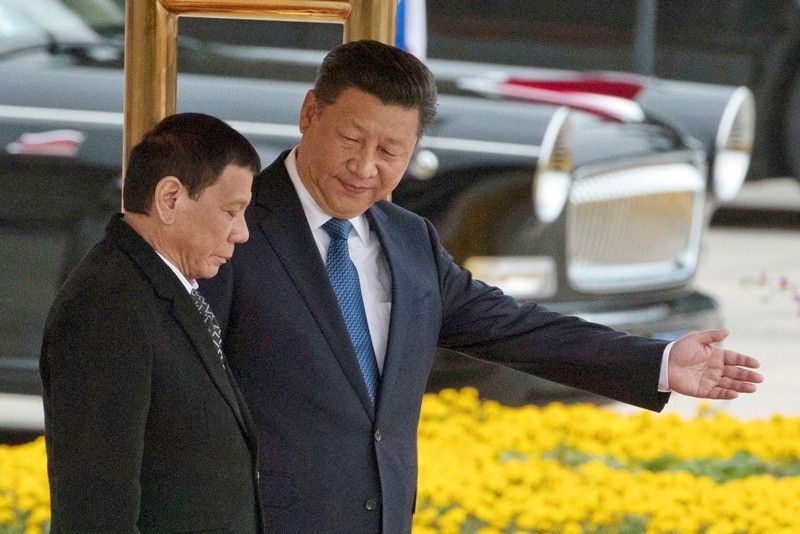 Chinese President Xi Jinping, right, shows the way to Philippine President Rodrigo Duterte during a welcome ceremony outside the Great Hall of the People in Beijing, China, Thursday, Oct. 20, 2016.
AP/Ng Han Guan, File photo
Philippines can follow Australia's balancing act
If the Philippines is to pursue an "independent" foreign policy, it may do well to take inspiration from countries that have found a middle path between the United States (US) and China. The answer may lie in not only deepening cooperation with the world's heavyweights, but in investing in our relationships with neighbors and markets of all sizes. While the Philippines strengthens its ties with partners throughout Asia this year, it could look just further to Australia and build on the milestones on the past.
Adapting the comprehensive partnership to economic priorities
In 2015, the Philippines and Australia inked a "comprehensive partnership" with many areas of ongoing and planned cooperation: political, economic, defense, law and justice, education, and development. On the back of this partnership, Australia is the Philippines' second largest source of grants after the US, providing US$ 567 million in 2015.
The economic component of the relationship is liable to have a higher profile moving forward. After the country netted headline-grabbing sums from the president's trips to Beijing and Tokyo last October, the Philippines' relationships with Japan and China have been top of mind topics when discussing our foreign relations. There has been the tendency, rightly or wrongly, for members of the government and the public to take a transactional view of foreign affairs.
Australia is the Philippines' second largest source of grants after the US, providing US$ 567 million in 2015.
Philippines-Australia bilateral trade could be stronger. Although trade has reportedly grown by 65 percent since the ASEAN-Australia-New Zealand free trade agreement came into force, this growth reflects the relatively low levels of exchange that were in place prior. As of 2015, two-way trade is at US$ 1.3 billion, making Australia only our 17th largest trade partner in 2015.
Nevertheless, security has been an important component. In 2015 and 2016, the Philippines received two landing craft heavy vessels for the Philippine Navy as a donation from the Australian government; the Philippines bought a further three the year after. Defense and security cooperation has touched a variety of areas, crossing both counter-terror and peace-building areas.
Independence and interdependence in action
Like the Philippines, Australia is a US treaty ally and those two countries have a longstanding security relationship. Its expansive cooperation with the US, however, has not prevented Australia from pushing a US-less Trans-Pacific Partnership nor reduced its efforts to conclude an Asia-centric trade deal in the form of RCEP (Regional Comprehensive Economic Partnership).
Despite its relationship with the US, Australia has a robust economic relationship with China, and the relationship has only grown stronger. In 1995, China was outside Australia top 10 trading partners, and Australia's exports to China were only a fourth of those going to the US and a third of those going to Germany. As China has grown, however, Australia has greatly benefited from exports of iron ore and other materials to fuel the large economy. Between 2010 and 2015, trade between the two grew at an average of 5.9 percent.
Despite its relationship with the US, Australia has a robust economic relationship with China, and the relationship has only grown stronger.
As of 2015, China is Australia's largest trade partner. At face value, the gap between Australia's exports to China and to the US in 2015 (US$ 346 billion) was double the size of Australia's exports to China in 1995 (US$ 168 billion). The two-way exchange of goods and services between China and Australia now makes up 22.7 percent of Australia's total trade. Even ASEAN, with 14.1 percent share, would come ahead of the United States, with 10.5 percent.
Even so, Canberra has not echoed Beijing's views on the strategic environment. Immediately after the international tribunal released its ruling on the Philippines' case against China under UNCLOS, Australia's foreign ministry issued a statement that called on China and the Philippines to abide by the ruling and stressed that the ruling is both final and binding. Australia has been consistent on the importance of upholding international law and a rules-based order.
Conclusion
So far, Australia has managed a balancing act that has not resulted in it foregoing its strategic interest even as it works to ensure the prosperity and wellbeing of its citizens. Thus, even as the dynamism of the US and East Asia easily catch our attention, the ongoing debates over balancing our economic diplomacy with our national security might lead us down another path.
Other members of the Association of Southeast Asian Nations (ASEAN), whose meetings we're hosting this year, have long attempted to balance the push-and-pull of major powers in different ways. Apart from looking at ASEAN—Vietnam and Singapore, especially—the Philippines can cast a wider net for foreign policy inspiration; Australia would be a good starting point.
On Thursday, Australia's Foreign Minister Julie Bishop is making a short trip to the Philippines, where she will be discussing strategic realities and challenges in a keynote speech with the Stratbase ADR Institute.
Dindo Manhit is the president of Stratbase ADR Institute.