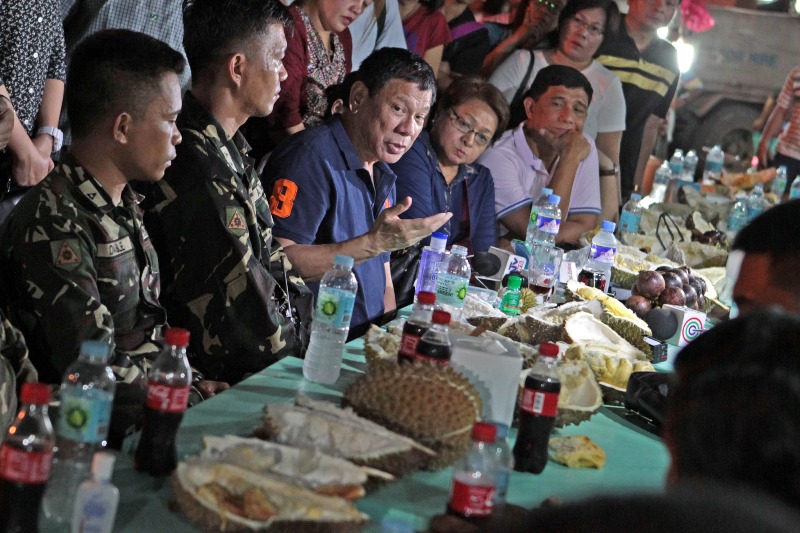 President Rodrigo Duterte talks to the media at the Magsaysay Fruit Vendors Association Stalls in Davao City on Aug. 24, 2016. PPD/Robinson Niñal
Dutertespeak: Tsuk-tsak, shabulize, talkalese
(The Philippine Star) - August 26, 2016 - 9:02am
MANILA, Philippines — If you've gone buang because you have been shabulized, don't try to meet with him because no amount of talkalese would soften his stance.
If you understand the sentence above, chances are you have been regularly listening to President Duterte's speeches.
Duterte chose simple, colloquial words that even the uneducated can easily understand.
Presidential spokesman Ernesto Abella said Duterte uses simpler and popular words because that is what he is – a common man.
Duterte can pose a challenge for non-Bisayan speaking journalists or academics who monitor government affairs.
Some Bisayan words have gone mainstream or at least are gaining exposure because of Duterte.
During a visit to a military hospital, Duterte asked about a soldier's utin or genitals.
He frequently calls his critics buang or crazy.
In a speech at the Armed Forces Medical Center in Quezon City last Aug. 2, Duterte used a Bisayan expression to criticize corruption in procurement.
"I asked the doctor what's the best (equipment)?" he said. "Those who said COA (Commission on Audit) favors the lowest bid. Ah lo-lo mo. You make noise and yet your net product is substandard."
Lo-lo mo literally means to jack off, but it really depends on how it was used. The expression, however, is usually delivered by exasperated persons and can be an equivalent of "tell it to the Marines" or the Tagalog "gago (stupid)."
During a camp visit in Cotabato City last Aug. 18, Duterte lamented that the pipes of a military hospital were broken and that the tubol or feces resurfaced.
While known for his macho image, Duterte has no qualms about using gay lingo.
When he talked about the alleged romantic affairs of his nemesis, Sen. Leila de Lima, he uttered the word "tsuk-tsak," which means sex.
"They call it tsuk-tsak," he said last Wednesday. "What is there to say? Do I have to explain it (using a) dictionary?"
But Duterte not only uses colorful language. He also invents words.
During a meeting with editors and reporters of The STAR last Aug. 3, he said former president Fidel Ramos would do "talkalese" as special envoy to China.
While there is no such word in the dictionary, it was clear that Duterte was referring to Ramos' role as icebreaker on the West Philippine Sea dispute.
Duterte also described Iloilo as the most "shabulized" province in the country last Aug. 7.
He was talking about the supposed rampant sale and distribution of illegal drugs in the Western Visayas province.