Illuminating communities with SALt Lamp
(Philstar.com) - June 25, 2016 - 7:15pm
MANILA, Philippines – It all started with an idea of illumination the darkest communities in the Philippines using a staple commodity.
In 2011, during an immersion trip with a local tribe in the northern province of Kalinga, Aisa Mijeno came up with the idea for Sustainable Alternative Lighting, or SALt, lamp.
"I learned that people don't have access to electricity and use kerosene lanterns as their main source of lighting," she says, adding that people had to go down the mountains to buy every other day kerosene for their lamp.
"This inspired me to come up with SALt lamp since salt is pretty much abundant and a staple item in every household in the Philippines," she recalls.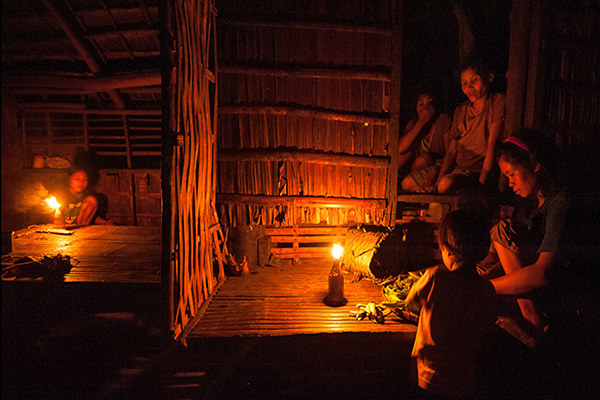 SALt seeks to provide a sustainable, alternative source of lighting to unenergized communities that rely on kerosene-powered lamps.
More than four years later, during the Asia Pacific Economic Cooperation (APEC) summit in Manila in Nov. 2015, Mijeno shared the stage with US President Barrack Obama and Chinese business magnate Jack Ma to discuss their project.
"I was really nervous. I knew that I was there to represent the local startup community and later realize that it was not just the local startup community but the Philippines as a whole so I thought I should be really careful with all my answers," she recalls.
She said the invitation to join Obama and Ma – the founder and chief executive officer of Alibaba – came as a surprise. Mijeno, her brother and SALt co-founder Raphael, and the rest of their team were supposed to join the APEC summit for small and medium enterprises.
While on their way, she said she received a call from someone from the White House to invite her to be in a panel discussion that will be moderated by Obama.
'The first emotion I felt, to be quite honest, during the whole conversation was fear – because I was not sure if we were ready for the kind of exposure this will bring us. It will surely put a heavy pressure on our shoulders, but it was a once in a lifetime event, so my brother pushed me to accept the proposal," says Mijeno.
During the discussion, she explained the concept of SALt, which uses saline solution to power LED lamps and a USB port that can charge smartphones.
"The huge impact we'll be able to contribute when we dive into developing large-scale for the technology," she told those in attendance. "Just imagine if we are able to power a whole island using ocean water."
Obama, who led the panel discussion after his speech at the APEC CEO summit, was impressed with the presentation of the young engineer, entrepreneur, and part-time faculty member at the De La Salle University in Lipa, Batangas.
"I think Aisa is a perfect example of what we're seeing in a lot of countries, young entrepreneurs coming up with leap-frog technology," said the US President.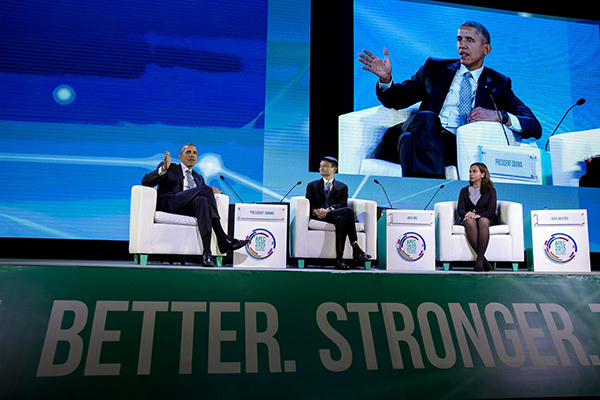 Mijeno (right) shares the stage with US President Barack Obama and Alibaba chief executive officer and founder Jack Ma during the CEO summit of the Asia Pacific Economic Cooperation (APEC) in Manila in November 2015.
SALt Lamp
Mijeno says the main objective of SALt is to illuminate rural communities in the country and help them deviate from the use of kerosene.
"Kerosene lanterns had been so pervasive because this lighting system had been passed down from generation to generation, mainly the reason why we didn't remove the practice of how to use kerosene lantern system. But instead of pouring kerosene, you're pouring saltwater. Instead of lighting up a match, you push an on and off button," she explains.
Further development of the prototype for SALt came about in 2014 when they joined Ideaspace, a local incubator selects startups to fund and developed.
The SALt lamp uses the science behind the "Galvanic cell", which is the basis for battery-making. But instead of electrolytes, it uses a non-toxic saline solution to make the entire process safe and harmless.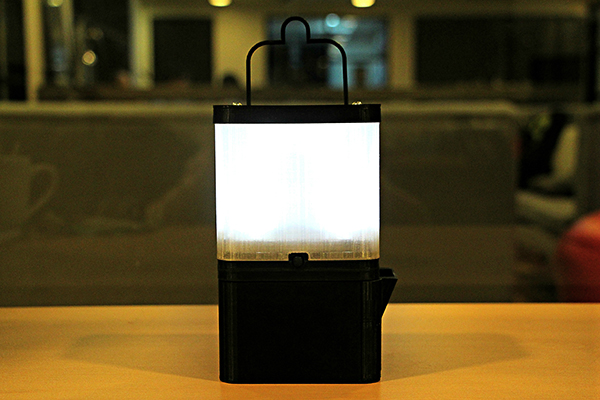 The SALt lamp uses a mixture of salt and water to energize a light-emitting diode (LED). It also has a USB port that can be used to charge smartphones and other gadgets.
"There are over 7,000 islands in the Philippines and most of these islands do not have access to electricity. We want to eliminate the sustaining cost in areas that rely on kerosene/battery powered lamps and candles as their main source of lighting," a piece on the startup's website read.
Mijeno says they are continuously developing the design and the system to make it even more efficient.
"We are working on new units to be deployed still for field testing. We wanted to extract all needed inputs for design, system, and functionality so we can improve the product even more before really going into mass production," says Mijeno.
"But are also working towards the production of first batch for distribution. Currently, we are in partnership with a local manufacturing company and working together with their engineers," she adds.
The startup also started various social activities with the aim to provide lamps to communities with no access to electricity. Among those identified as beneficiaries are residents of Buscalan town in Kalinga, where everything began.
"(We plan to) focus on research and development and further create more efficient innovations that would help uplift people at the bottom of the pyramid," she says.
For Mijeno, like in the case of other startups, everything started with an idea – an idea that the primary objective is to provide help those who need it most.