What we know about Jackson Atoll in disputed sea
MANILA, Philippines (UPDATED March 3, 2016) — A Philippine-claimed maritime feature in the disputed South China Sea was reportedly taken by China, effectively preventing Filipino fishermen from conducting activities in the traditional fishing ground. Beijing, however, said the vessels have since left the area.
Mayor Eugenio Bito-onon Jr., who heads Philippine-claimed Pag-asa Isand in the Spratly Islands off Palawan province, said he saw the Chinese ships at the Jackson Atoll for two straight days last week while flying in a plane over the area.
Bito-onon said Chinese government vessels have not been stationed at the atoll, which the Philippines calls Quirino, in the years he has been passing by the uninhabited reef.
The feature, which the Philippines calls Quirino Reef, is named Wufang Jiao in Chinese and Bãi H?i Sâm in Vietnamese. It lies 140 nautical miles west of Palawan and a few kilometers south of Philippine-occupied Nanshan Island, named Lawak Island in Filipino.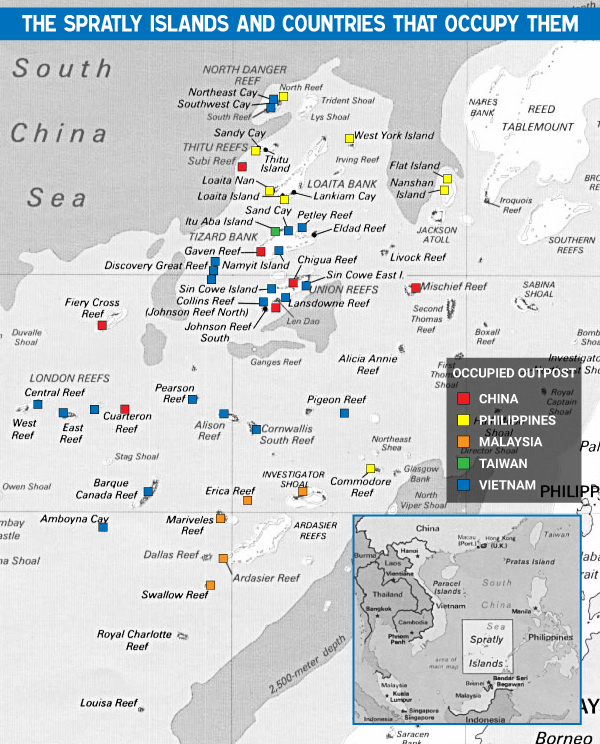 Infographic based on map in US Department of Defense's report "Asia-Pacific Maritime Security Strategy." Philstar.com / RP Ocampo
Reports say Jackson Atoll takes on a ring shape, but hydographic surveyors D. J. Hancox and John Robert Victor Prescott wrote in 1995 that the atoll has a roughly rectangular shape.
The feature's Chinese name means that reefs can be found in five directions, as five coral patches called Dickinson, Petch, Hampson, Deane and Hoare Reefs line the lagoon.
Hancox and Prescott described the atoll as follows:
The lagoon has depths varying from 25 to 46 metres with a few coral heads in Fly Patches between Hoare and Dickinson Reefs on the northern perimeter. There are four entrances to the lagoon. The two lie on either side of Hoare Reef and the other two lie between Dickinson and Petch Reef and they are separated by Middle Shoal with a least depth of 7 metres. While the bottom of the coral and sand provides good holding ground the lagoon provides no shelter from rough weather.
"I'm alarmed because we frequently pass by that atoll on our way to Pag-asa," Bito-onon told The Associated Press by telephone, using the Philippine name for Thitu Island, where he frequently travels to visit a Filipino fishing community guarded by troops. "What will happen now if we sail close by with all those Chinese ships?"
Filipino, Vietnamese and Malaysian fishing boats have gone to the vast fishing lagoon Jackson for years, Bito-onon said, adding that Filipino fishermen were looking forward to the start of the octopus-catching season that starts next month.
When a Chinese warship fired at Filipino boats
In February 2011, three Philippine fishing vessels F/V Jaime, F/V Mama Lydia DLS and F/V Maricris 23 operating off Jackson Atoll were challenged by Chinese naval vessel Dongguan 560, a Jianghu-V Class missile frigate.
Respected security analyst Carlyle Thayer cited an Armed Forces of the Philippines report that the Chinese warship warned the fishing vessels over radio:
You are in Chinese territory. Leave the area immediately... I will shoot you.
The fishing boats began to withdraw, but the naval ship fired three shots that landed 0.3 nautical miles (556 meters) from the F/V Maricris 12. The same fishing vessel returned to the area three days after to recover an anchor detached from it earlier that week following the Chinese personnel's warning. Upon returning near Jackson Atoll, the Filipino crew spotted three Chinese fishing vessels exploiting marine resources in the area, Thayer noted.
Then Chinese Ambassador to the Philippines Liu Jianchao later denied that any Chinese vessel had fired at Filipino fishermen. — with reports from the Associated Press