Troops celebrate EDSA anniversary in West Philippine Sea
PAG-ASA ISLAND, Palawan — When 11-year-old Rogelio heard that Jollibee will be visiting their rustic village, he became excited.
"We prepared for his visit. I wore my best clothes and we cleaned our school," Rogelio, who was wearing polo and jeans, said in an interview Wednesday.
His classmate Dave was delighted to see the mascot and to taste once again the fried chicken served by the fast food chain. Fish and vegetables are the staple food of the residents of this island, which is part of the disputed Spratly archipelago.
"This is his first visit [to Pag-asa Island]. We are very happy to see him," the grade five pupil said in Filipino.
The visit was made possible by local officials and the Armed Forces Western Command (WESCOM), who commemorated the 29th anniversary of the People Power Revolution by reaching out to people in this island.
WESCOM chief Vice Adm. Alexander Lopez said the commemoration of the 1986 EDSA Revolution in Pag-asa Island is symbolic as it emphasizes the need to safeguard freedom.
"We took the opportunity to commemorate the EDSA revolution in this visit because the message of EDSA is very much applicable here. The message of Edsa is change and freedom," Lopez told reporters in an interview.
"Here in Pag-asa, there is hope and freedom. Our freedom stems from our vigilance against the looming security threats in the region because of the developments involving claimants," he added.
Lopez said their visit was also a peaceful way to emphasize the country's territorial rights.
"We are here to show to our country and eve to the world that this part of the globe is ours and we have a moral obligation to develop it and to look after the constituents," he said.
Pag-asa (Thitu) is the biggest island held by the Philippines in the Spratlys archipelago. The island has a total land area of about 37 hectares and is located within Kalayaan, a fifth class municipality in Palawan.
Kalayaan is part of the Spratlys Group of Islands also being claimed by China, Vietnam, Taiwan, Malaysia and Brunei.
The Philippines has built a town hall, a 1.3-kilometer airstrip, a naval station, a health center and a kindergarten school in Pag-asa to assert its ownership of the area.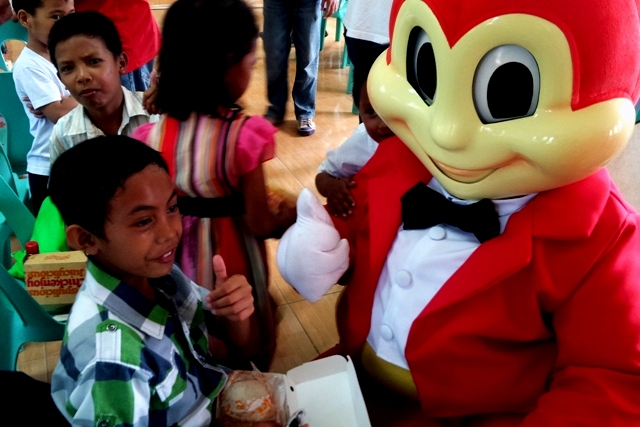 A child greets Jollibee during the mascot's first visit in Pag-asa Island, part of the province of Palawan. Alexis Romero
Aside from distribution of food, the EDSA anniversary in Pag-asa also featured parlor games, celebration of the Holy Mass, a cultural presentation and gift giving to soldiers tasked to protect the Philippines' territorial integrity in the area.
Soldiers and local officials also distributed school supplies, groceries and bags to the more than 200 residents of the island.
Also present during the event were Kalayaan Mayor Eugenio Bito-onon, Palawan Vice Governor Victorino Dennis Socrates and Puerto Princesa Apostolic Vicariate Bishop Pedro Arigo.