Find out where to get papal merchandise
MANILA, Philippines – Everyone wants to get a hold of items to commemorate the visit of Pope Francis.
Fortunately, self-regulating vendors are allowed to produce their own merchandise to honor the papal visit. This includes theme, designs and images of the pope.
If you are planning to get one (or more), here is a list of merchandise inspired by the Pope.
Figurine
Where to get it: Precious Moments Manila
T-shirts
Where to get it: Caritas Manila Inc.
Pouch, Bracelet, T-shirts, Foldable Fans
Where to get it: Radyo Veritas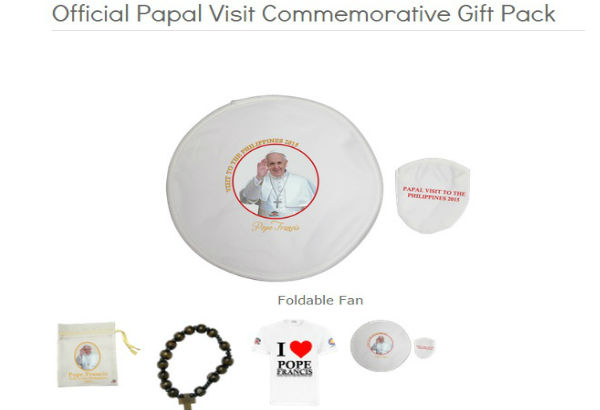 Screengrab from Radyo Veritas
The Limited Edition Papal Visit Commemorative Gift Pack is a fund-raising drive in honor of Pope Francis' upcoming visit to the Philippines this Jan. 15-19 2015. In exchange for your P500 donation, you get more than P1,000.00 worth of items.

+ Limited Edition Papal Visit Commemorative Card (a valuable Collector's Item). This is a valuable commemorative card showing Pope Francis' image at the front, and the Official Papal Visit Prayer at the back. The cards are sequentially numbered and in limited stock. Be among the first card collectors to obtain these collectors' items!

+ 30-Day Unlimited Entertainment Load powered by Mavshack.com. Get 30 days unlimited entertainment worth P250 and view tons of movies, TV shows and music videos from around the world

+ An assortment of Papal Visit branded commemorative items, including:

- an official Papal visit T-Shirt worth P350
- a rosary bracelet worth P20
- a Papal visit-branded foldable fan worth P25.00

+ A wide array of discount coupons worth more than P500.00 from selected brand partners!


All these items are conveniently contained in a reusable fabric pouch (worth P100.00).

Your donation will go towards funding various social development & evangelical programs of Caritas Manila and Radio Veritas Foundation Inc., respectively.
Clear Cast Encapsulated Pictures
Where to get it: Online Shop
Pins
Where to get it: Online Shop
Mugs
Where to get it: Online Shop
Sun Visors
Where to get it: Online Shop
Half Bust Fiber Glass
Where to get it: Online Shop
Key Chain
Where to get it: Online Shop