Chinese proposes to girlfriend with 99 iPhones, gets rejected
MANILA, Philippines - Money can buy you iPhones, but unfortunately, it can't buy you a wife.
In China, a programmer tried to step his love life up a notch by proposing to his girlfriend through giving her 99 pieces of iPhone 6. Sadly, the grand proposal turned into one pricey rejection.
According to, the ibtimes.co.uk, the young man from Guagzhou spent over £50,000 to buy 99 iPhone 6s, the equivalent of a two-year annual salary in the country, £51,543. In his plan to make the proposal extravagant, he arranged the expensive iPhones into a heart shape and held a bouquet of flowers as he proposed to his girlfriend.
The girlfriend must have been listening to JLo, because she did a "my love don't cost a thing" gesture by dismissing the proposal in front of his friends and colleagues.
Consequently, "Singles' Day" is celebrated every 11th of November. On the said date, everyone who is single tries their best effort to convince their love interests to reciprocate their feelings. Looks like this man went ahead of the celebration. The photos of the failed proposal went viral on Weibo, Chinese microblogging site.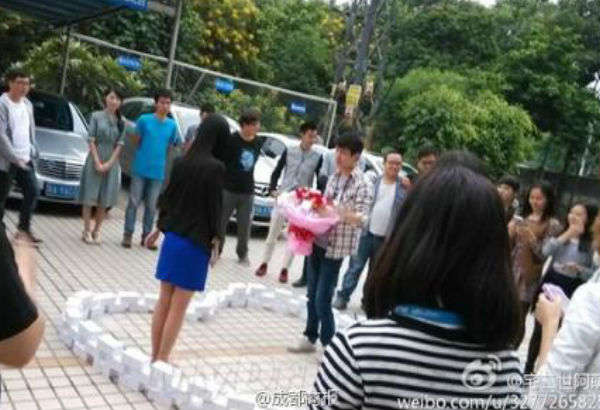 Photo from Weibo.
Meanwhile, netizens shared their reactions about the "proposal gone awkward" on Twitter.
A man in china propose a girl with 99 iphones 6 and then the girl reject the proposal?good,the girl is not materialistic

— syafiq. (@AbangBerita) November 10, 2014
99 iPhones rejected cause can't buy love with money lah duh

— listen u little shit (@hanessimon) November 10, 2014
That guy who proposed with 99 iPhones but got rejected is the reason why money can't buy you happiness. BUT can but you 99 iPhones!

— Michele (@micheesica_snsd) November 9, 2014