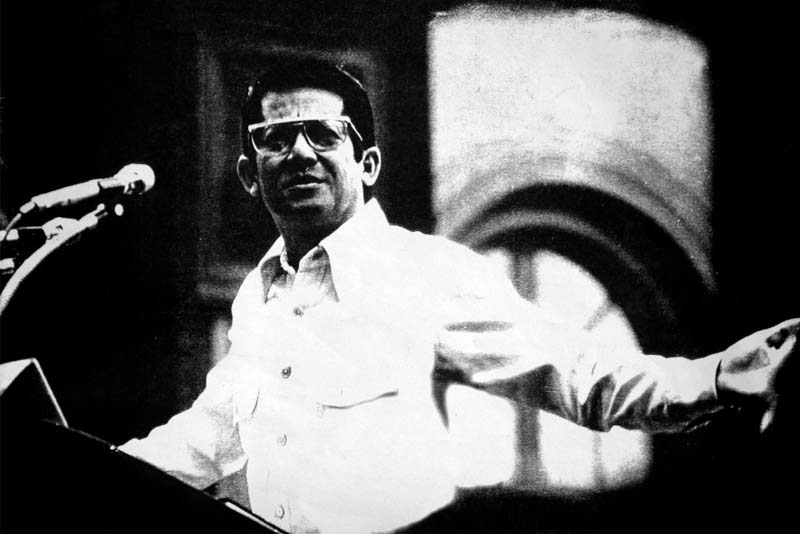 Ninoy Aquino, a former senator who defied dictator Ferdinand Marcos. He was executed upon his return to the Philippines in 1983. Official Gazette photo
A look back at Ninoy Aquino's murder
MANILA, Philippines - It has been 35 years since that sunny day in 1983 when Benigno "Ninoy" Aquino Jr. was murdered with a single bullet to the head. The exiled ex-senator was about to get off China Airlines Flight 811 (CAL flight 811) after it touched down at the Manila International Airport now called the Ninoy Aquino International Airport.
In August 20, 1983 hours before his flight, Ninoy was interviewed by the press. When asked about the supposed Marcos plot to kill him, he said, "Assassination is part of public service… I can't allow myself to be petrified by the fear of assassination and spend my life in a corner."
Thus were the words spoken by Ninoy as if accepting the fact that the next time he would be touching Philippine soil would be his last.
In remembrance of Ninoy Aquino's sacrifice for democracy, Philstar.com has collected lesser-known information pertaining to the murder of Aquino. While most are facts, some data listed are still disputed and are still in the process of investigation.
THE FAKE PASSPORT. Ninoy actually had two passports—one was fake and it contained his real name, and other one was a real passport containing the pseudonym "Marcial Bonifacio." "Marcial" was for martial law and "Bonifacio" is the name of the place where he was imprisoned.
WELCOME COMMITTEE. About 20,000 of Ninoy's supporters flocked at the Manila International Airport. Marcos, on the other hand, sent in over 1,000 armed to provide security for Aquino's arrival. Called "Oplan Balikbayan," its aim was to secure MIA once Ninoy's plane landed.
THE "5 MONKEYS." Aquino's security group was composed of five men: Technical Sgt. Claro Lat, Corporal Rogelio Moreno, Sgt. Arnulfo de Mesa, Corporal Lazaga, and Lieutenant Castro. They were the officers who were supposed to escort Ninoy from the plane to Fort Bonifacio, where he would be detained. Eleven seconds had elapsed from the moment Ninoy stepped out of the airplane door to the sound of the first gunshot (at 01:15 p.m.). As Ninoy and the 5 men walked out of the door, numerous voices were heard as saying, "Ako na! Ako na! Ako na!" and "Pusila!" (Pusila, in a southern Filipino dialect is an order to shoot). The voices reportedly came from Ninoy's security team, which they later denied.
Cpl. Moreno, who walked a few feet behind Aquino as he descended the stairs, was later convicted as the person who shot Ninoy. This group would later be called the "The 5 Wise Monkeys" because in the investigation, they "Saw nothing, heard nothing, said nothing."
POINT-BLANK. A .357 Magnum was allegedly used to murder Ninoy Aquino. He was shot at a distance of about 18 inches. The bullet entered Ninoy's nape and exited his chin. Investigations later showed that the shooter was directly a few feet above Ninoy and not level as was earlier suggested.
Reportedly, there were two .357 with the same serial numbers. Interestingly, one was owned by Col. Octavio Alvarez, the former chief of the Metrocom Intelligence Group—it was reportedly stolen from him.
"ROLLY." The man who supposedly shot Ninoy had the word "Rolly" embroidered on the waistband of his underpants and an "R" engraved inside his gold wedding ring. Nine days after the assassination, "Rolly" was finally revealed to be Rolando Galman. He was officially described as a "notorious killer and gun for hire."
It was later reported that Galman had been supposedly taken from his home four days before Aquino's murder. Two days after Aquino's murder, Galman's common-law wife Lina was taken by several armed men. She was never heard of again.
REVELATIONS. Roberto Olaguer, a chaplain who visited the inmates at the New Bilibid Prison would later reveal details about what he learned from Sgt. Pablo Martinez, one of the men convicted of Ninoy's murder. Martinez reportedly was recruited by Col. Romeo Ochoco, then deputy head of AVSECOM (Aviation Security Command). Martinez was introduced to Rolando Galman and was told to make sure Galman kills Ninoy, otherwise, kill Ninoy and shoot Galman as well. Since Martinez had access to the airport, it was easy for him to smuggle Galman into the tarmac.
Sgt. Martinez would later implicate Ninoy's cousin-in-law Danding Cojuangco, but it was never proven.
Martinez was later killed in a hit-and-run incident this year. He was hit by an SUV.