'Glenda' could have been strongest to strike Metro Manila
MANILA, Philippines — Powerful typhoon "Glenda," which has left land for the West Philippine Sea on Wednesday afternoon, spared Metro Manila from being directly battered even as it ripped off roofs, electric posts and brought down trees in the capital region.
Glenda, with its 150-kilometer per hour wind and blinding 185-kph gusts, could otherwise be the strongest cyclone and most expensive disaster ever to strike the densely populated, low-lying Metro Manila.
Weather Underground's chief meteorologist Jeff Masters said in his blog that Glenda, internationally named Rammasun, is fiercer than typhoon Angela which made a direct hit on Manila with 90 to 105 mph (144 to 168 kph).
"Flooding is already occurring in Manila, and flood and wind damage in the city have the potential to make Rammasun one of the top ten most expensive natural disasters in Philippine history," Masters said.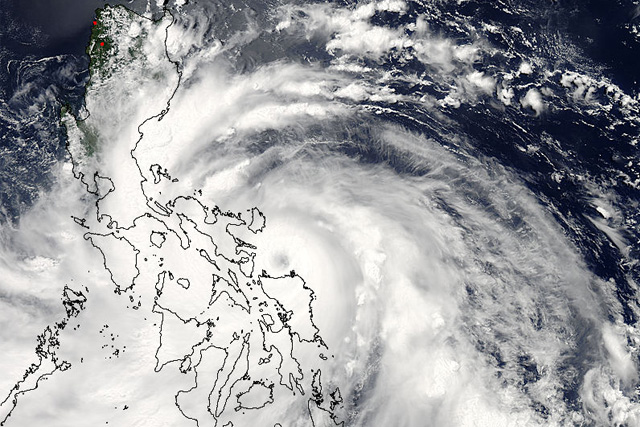 Typhoon Glenda (international name Rammasun) over the Philippines as seen in a satellite image from NASA.
"According to NOAA's historical hurricane web page, the strongest typhoon ever to make a direct hit on Manila was Typhoon Angela of 1995, which was a strong category 1 or weak category 2 when it passed over the city," he explained.
Glenda intensified before it made a landfall over Sorsogon and Albay in the Bicol region on Tuesday. At the height of its onslaught over Southern Luzon, 35 areas were placed under a warning signal and at least seven people were killed.
In a shantytown at the edge of Manila Bay, hundreds fled when strong wind tore tin roofs off their shanties. Most were drenched by the rain before they reached an evacuation center with the help of firemen and rescue personnel.
Footage of typhoon Glenda (Rammasun) striking Legaspi taken by storm chaser James Reynolds of Earth Uncut TV.
Manila Mayor Joseph Estrada said he was relieved there were no reported deaths after the typhoon sideswiped his city although its wind still downed trees and damaged seaside shanties, prompting more than 1,000 residents to evacuate.
Glenda is the strongest typhoon to pass over landmass since the deadly Super Typhoon Yolanda in November 13. - with the Associated Press