How Ilocos Norte solon got his selfie with Pope Francis
MANILA, Philippines — Ilocos Norte Rep. Rodolfo Fariñas did what millions of other Catholics could not: Have a selfie taken with the busy Pope Francis.
"Selfie of my life with Pope Francis," Fariñas said, posting the photo on Instagram last Monday.
But how did the member of the House of Representatives manage to do it?
Fariñas attended the canonization of Pope John Paul II and Pope John XXIII at the Vatican and queued with other foreign delegations for a brief meeting at the Vatican courtyard with the Roman Pontiff after the ceremony.
A video taken by Italian newspaper La Repubblica showed Fariñas grabbing the opportunity when his turn came. He chimed in Philippine Ambassador to the Holy See Mercedes Arrastia Tuason to ask the pope for a photo.
The smiling Catholic leader politely obliged, without letting go of the handshake with Tuason.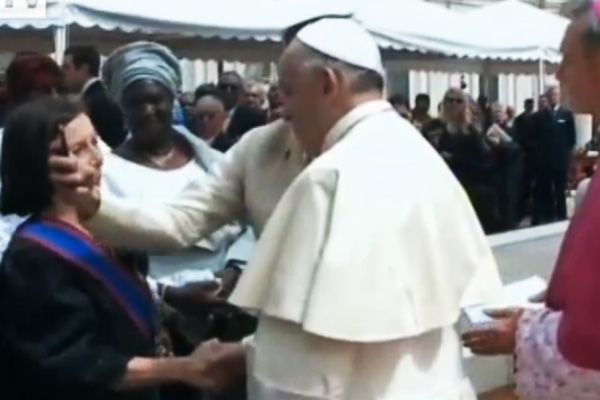 Screengrab from a video by LaRepubblica.it
Pope Francis, who seemed to be used to taking selfies with crowds by now, was first recorded posing with a young audience at Saint Peter's Basilica in the Vatican.
The teenagers were among the 500 pilgrims who traveled from Bobbio town in Emilia-Romagna, northern Italy last August.

Photo from AP
The "first papal selfie" went viral around the world right after it was posted online.