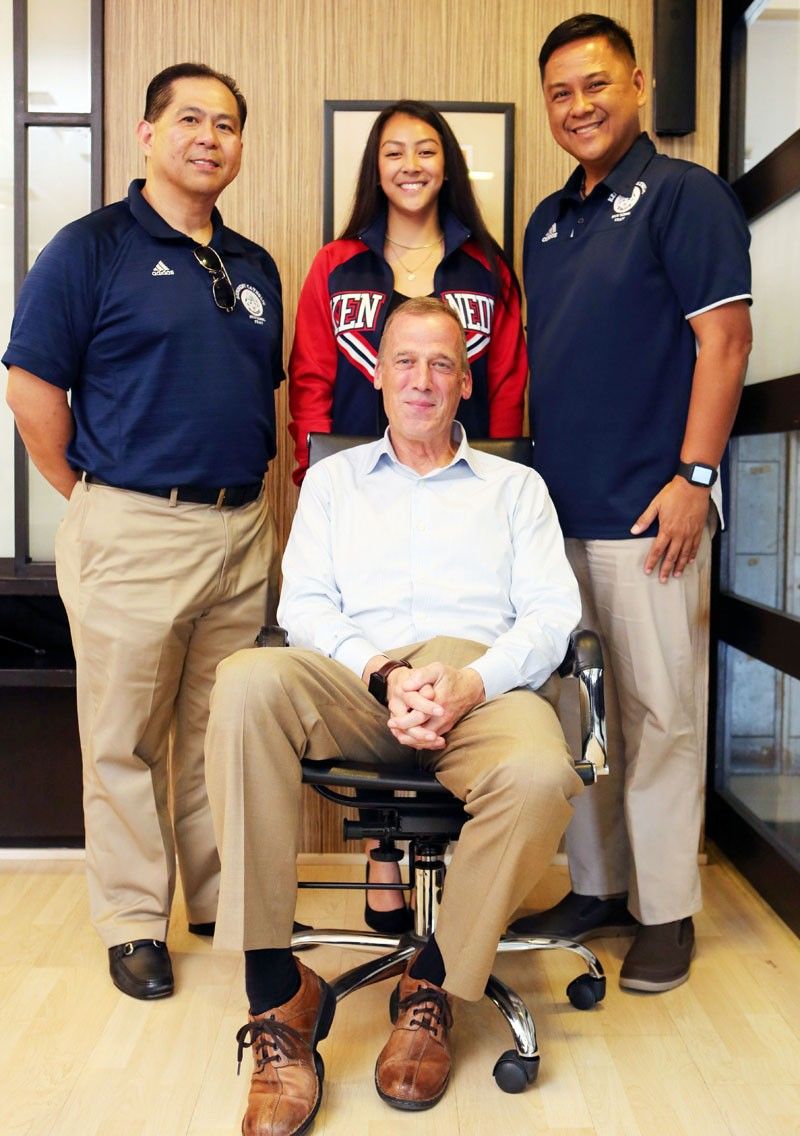 Photo shows John F. Kennedy Catholic High School president Michael Prato (seated) with (from left) JFK Catholic High director of finance Rommel Buenafe, alumna Emily McCathren and JFK Catholic High regional coordinator for the Philippines Paul Meim.
Ernie Peñaredondo
JFK Catholic High offers scholarships to Filipinos
MANILA, Philippines — It was during his first trip to Asia that John F. Kennedy Catholic High School president Michael Prato established country coordinators around the world for the said private school.
"Since that first trip, I've continued to travel in countries that have strong pockets of Catholicity. If our international program is to be aligned to our mission, then we must recruit families that are committed to faith and a future in Christ," he said.
In line with its commitment to providing strong academic programs and opportunities to students from different backgrounds and faiths, Kennedy Catholic is offering scholarships to Filipino students who wish to expand their horizon, attain higher education and obtain better opportunities.
Commitment to educate through faith
At the core of Kennedy Catholic is a commitment to developing the fullest potential of every student in learning, faith and leadership. They are guided by their affinity to the Catholic faith and family values, and they believe that Filipino families share these same commitments to the faith, values and desire for an educational institution with strong academic programs.
Because of this, they are motivated to provide Filipino families with the opportunity to pursue a secondary education in the United States at Kennedy Catholic.
"We are really motivated to be able to expand the international program market in the Philippines because we see things that are consistent with our mission, goals and ideals. Starting with the Catholic identity, which is something that is very important to us – it's central to us, it defines us – and the Philippines has a very strong Catholic identity," Kennedy Catholic High School's director of finance Rommel Buenafe said.
"The second thing is the English proficiency; the competence in the language is very appealing to us. Third, Filipino families really value education, and we're in the business of providing quality education – something that is going to propel students to whatever paths they choose," he added.
The scholarship is unique to the Philippines and made available to qualified applicants, plus it is renewable each year.
The application process includes preparing the necessary documents such as transcript of records, recommendation letters, essays as well as a Skype interview with the president and other administrators of the school.
For the incoming school year, the deadline for submission of application is on March 15.
Community based on mutual faith
At Kennedy Catholic High School, international students develop deep friendships that last a lifetime.
Filipino parents do not need to worry about their children's lack of interaction with their countrymen, as there are many Filipino-American families who count themselves as alumni and current students.
The student body benefits from the cultural diversity and exchange within their own community, and they would like to expand this community to Filipino families in the Philippines.
"Within our community, we have a big group of Filipino families and 10 percent of our faculty are Filipino. Parents can feel at ease knowing that there is a day-to-day sense of belonging for their children," Prato said. "And to ease the worries of parents, I can assure them that we have a very safe community. I have two daughters who are presently attending Kennedy Catholic, and I can vouch for the safety in the school."
Kennedy Catholic is also proud to share that they have students from China, Germany, Indonesia, Japan, Poland, Russia, South Korea, Taiwan, Thailand and Vietnam as part of their student body and alumni.
With over 10,000 alumni worldwide, Kennedy Catholic graduates embody the outcome and deliverables of a Catholic education – faith-filled, service-oriented, college-bound, passionate young men and women ready to take on the world.
Kennedy as optimal choice for secondary education
Kennedy Catholic has outstanding academic and athletic programs, professional development and campus ministry programs to which graduates receive scholarship awards to attend countless universities and colleges.
Students of Kennedy Catholic call themselves Lancers. Not only do Lancers excel in academics, but they are also talented artists, athletes, musicians, humanitarians and servant leaders. The thousands of Lancers are proud to say they are "Lancers for Life."
"Speaking as an alumni, I can say that Kennedy itself is an experience. You have four years with your own batch and you also get to meet different people in other years and it's awesome to be part of the different activities that they do. We have a lot of sports, clubs, choir groups, a business club, a robotics team; we get to experience the whole high school life like watching football and soccer games. I was in cheer, you get to experience Friday night lights," Emily McCathren shared.
"In the past four years, I have definitely grown more than I have ever seen myself grown, and thanks to Kennedy, I see myself growing so much more in the future," she added.
"I personally thought that I was going to a public high school after middle school, but my parents chose for me to go to Kennedy. They wanted to push me to further my Catholic faith, my character, my identity and they knew that by raising me in a Catholic school for four years with people who had the same likeliness as me, who wanted to pursue that same faith, it was very comforting for them, so I think that if there could be a takeaway for parents of Filipino students, their sons or daughters can definitely take away that character, they can improve their own selves and their own Catholic faith. I think that is something that they will really look forward to."
(Visit www.kennedyhs.org/int to know more about Kennedy Catholic High School. Or follow their social media pages.)