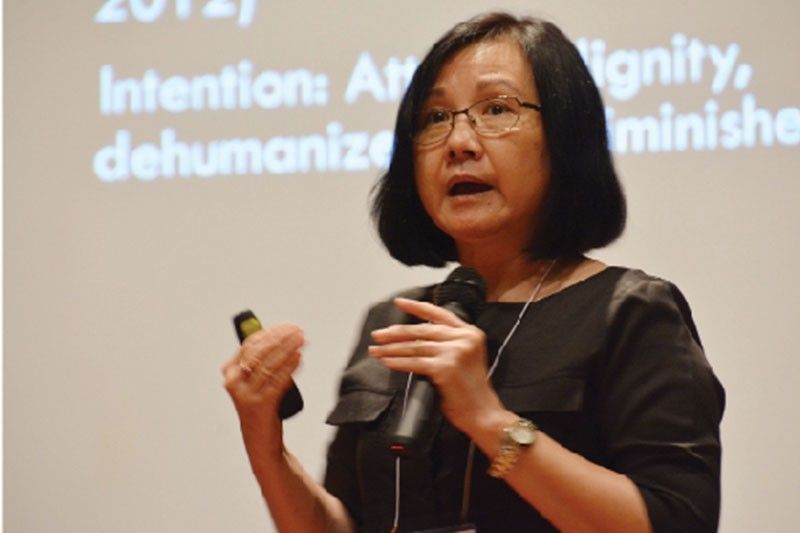 University of the Philippines journalism associate professor Yvonne Chua is this year's Gawad Tsanselor para sa Natatanging Guro awardee.
Vera Files
Vera Files co-founder is UP's 2020 Gawad Tsanselor sa Natatanging Guro awardee
MANILA, Philippines — Veteran journalist, journalism educator and Vera Files co-founder Yvonne Chua is a recipient of the University of the Philippines (UP) Diliman's 2020 Gawad Tsanselor para sa Natatanging Guro.
The recognition is given to UP faculty members who have "outstanding accomplishments, and consistently demonstrated honor and excellence, in teaching, research and public service."
Currently an associate professor of journalism at the UP College of Mass Communication, Chua has been mentoring future media workers from the country's national university for nearly 25 years, beginning her academic career in 1995. She teaches investigative journalism, data journalism and fact checking, among others.
In 2019, she led Tsek.ph, a pioneering collaborative fact-checking project that brought together 11 media organizations and three universities, including Philstar.com, to combat disinformation in the May midterm elections.
She initiated Vera Files' fact checking project, which started in 2016 as a project by her students during the presidential elections. The students' fact checks were published in a section called "Is that so?" in Vera Files' website, which later became Vera Files Fact Check (VFFC) one of the fact-checking groups accredited by the International Fact Checking Network.
Chua continues to educate and involve students in efforts to fight mis- and disinformation, teaching a semester-long seminar class on fact-checking and establishing FactRakers, a fact-checking project of UP journalism majors that she supervises.
She has also trained reporters on investigative and data journalism, as well as fact checking, in several provinces in the country and in countries such as Myanmar, Vietnam and Thailand.
Chua is a multi-award winning journalist, who was part of the team that put out the investigative series on former president Joseph "Erap" Estrada's unexplained wealth, which helped form the basis of the impeachment complaint against him.
She is the only journalist to date who has been twice-named a Marshall McLuhan Fellow, in 2000 and 2005, awarded to reporters "embodying outstanding qualities in the field of investigative journalism." She is also a Jaime V. Ongpin Awards Hall-of-Famer, winning grand prize thrice in five years.
She was the Ninoy and Cory Aquino Fellowship Awardee for journalism in 2010. In 2015, she was the Titus Brandsma Philippines awardee for leadership in journalism. Her citation said she was living "the best of both worlds of the academe and media practice."
Prior to co-founding Vera Files with five other veteran Filipino journalists in 2008, Chua was training director of the Philippine Center for Investigative Journalism for over 11 years, since 1996. Her journalistic career began in 1981, during the later years of the Marcos dictatorship, as a reporter for the now-defunct Philippine Daily Express. She later became the city editor at the national broadsheet Ang Payahagang Malaya.