EDITORIAL - Expanding 2nd boosters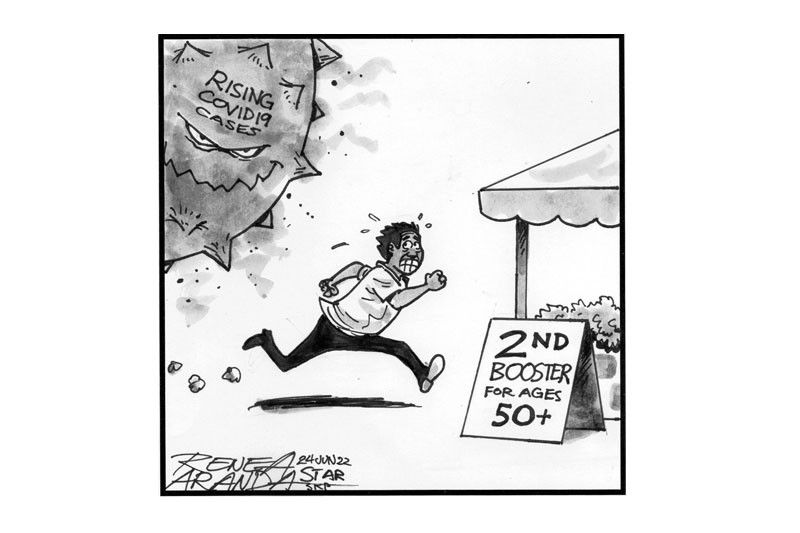 New COVID cases continued their steady rise yesterday, attributed to the highly contagious subvariants of the Omicron strain. The resurgence of the coronavirus is not only a threat to public health but is also threatening to derail economic recovery.
To avert the threat, there are proposals to expand the administration of second boosters to economically productive people aged 50 and older. Chief proponent Joey Concepcion, presidential adviser for entrepreneurship, says this would ensure the continuity of economic recovery as COVID cases rise anew.
The government currently limits second boosters to ages 60 up, frontline healthworkers and the immune compromised such as those with cancer and HIV / AIDS. Immunocompromised minors aged 12 to 17 have also been allowed to take their first boosters.
The US Centers for Disease Control and Prevention allows second COVID boosters for ages 50 and older. The Philippine government, however, wants to prioritize the administration of first boosters as it cites a low uptake of the shots.
Meanwhile, there are active members of the workforce in their 50s who want additional protection as Omicron spreads, but are unable to get their second boosters. The risk of infection is rising amid the crowding for mass transportation as surging fuel prices force public utility vehicle drivers and operators to stop plying their routes. Images yesterday showed the jostling for PUV rides worsening, and intensifying the risks of COVID transmission.
Even a moderate COVID surge may prompt a return of certain restrictions that can only hold back economic recovery. Concepcion estimates that about 9.5 million workers will benefit from the expansion of the coverage of second boosters.
There are also people outside the current coverage of the second boosters, who do not fall under the classification of immune compromised, but suffer from combinations of high-risk health problems such as heart disease, diabetes and a previous stroke. Should they also get their second boosters soon? The government will have to decide quickly, before the weak COVID surge worsens.