EDITORIAL - Tit for tat?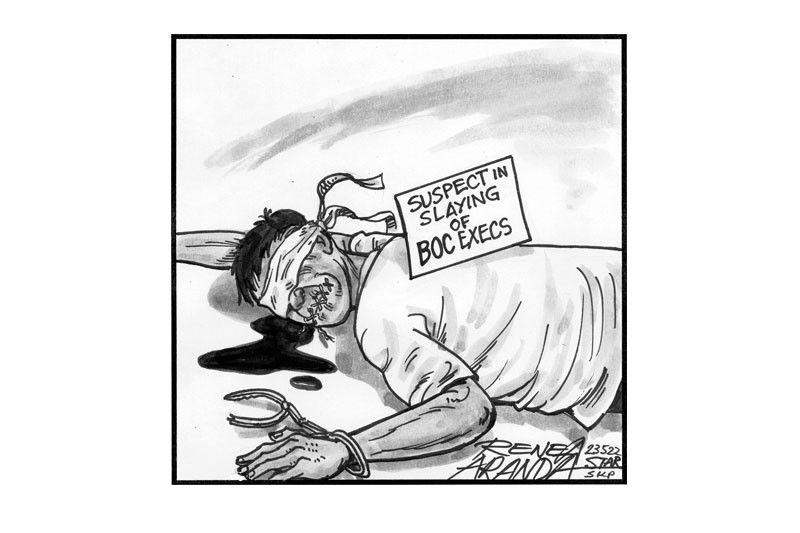 Was it a case of tit for tat? The Quezon City Police District is investigating the death of a QCPD member at the hands of security officers of the Bureau of Customs last Friday at the BOC main office in Manila.
Executive M/Sgt. Celedonio Caunceran Jr. of the QCPD was apprehended Friday afternoon by members of the BOC's Customs Intelligence and Investigation Services allegedly for roaming around the BOC office in Manila's Port Area with a gun, in violation of the election gun ban. Two hand guns and a knife were reportedly seized from him by the CIIS members.
Later that evening, Caunceran asked CIIS agent Jovan Escueta Lugtu for permission to use the toilet. He then allegedly tried to grab Lugtu's gun, and was shot in the chest and forehead by another CIIS agent, Elizer Layag Mangili. Reports said Caunceran had one wrist still in handcuffs when he arrived at a hospital where he was pronounced dead.
Caunceran was no ordinary election gun ban violator; he happened to be suspected of involvement in the murders of several BOC personnel as well as a grenade attack on the CIIS Enforcement and Security Services compound.
If he was a suspect in several serious crimes, why did he continue to serve in the police, apparently with no investigation initiated against him? If the accusations against Caunceran are true, it would have been interesting to find out what drove him to commit murder targeting BOC personnel.
Lugtu and Mangili are currently under police investigation for what is inevitably suspected to be a case of revenge killing using extrajudicial short cuts. Such short cuts were institutionalized in the conduct of a brutal war on drugs that has killed over 6,000 suspects but has not stopped the illegal drug trade in the country.
Perhaps the CIIS version of what transpired will stand in court, but suspicions of a revenge killing are bound to persist. Short cuts to justice have become common in this country where justice is almost always atrociously delayed and sometimes never comes.