EDITORIAL - Machine failure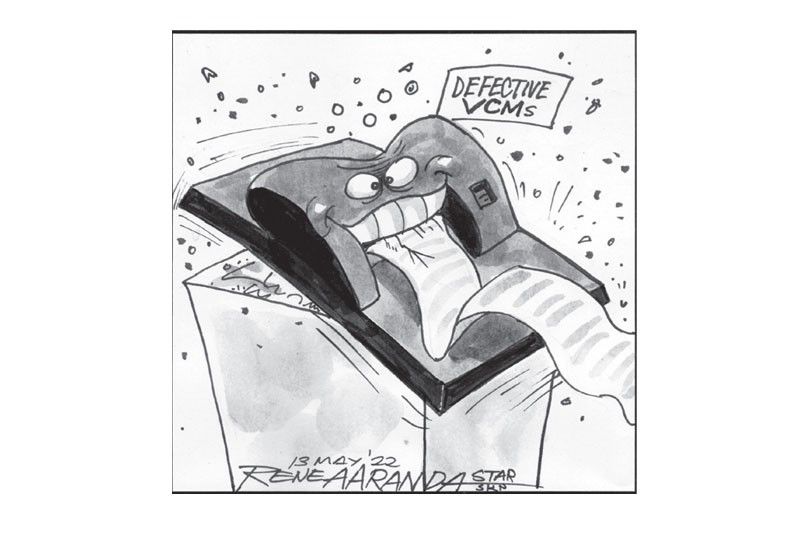 Voters woke up early on election day to avoid large crowds at polling precincts, only to be told that the vote counting machines had broken down. Some voters, worried that they would not be able to exercise their right of suffrage, camped out overnight outside polling precincts, waiting for defective VCMs to be fixed or replaced, before finally being able to cast their ballots on the morning of May 10.
In all, election watchdog groups estimate that about one million voters were affected by VCM glitches on May 9, or about 620 voters per VCM. The Commission on Elections counted about 1,800 VCMs that malfunctioned on election day, despite having been put through their paces days or even weeks before the vote. This was double the 961 machines that malfunctioned in the 2019 midterm polls and the 801 in the 2016 race.
While a million votes spread across the country will not affect the outcome of the races for president and vice president, they could swing the votes especially for the last slots in the Senate race, whose final results are still up in the air. Electoral protests might also emerge in local races due to defective VCMs.
Most of the glitches involved VCMs rejecting ballots that weren't spoiled. Voters complained about being told to leave their filled out ballots with members of the Board of Election Inspectors, and to sign a waiver allowing the BEI to feed the ballots into the VCMs once the machines were fixed or replaced.
The VCMs were refurbished by provider Smartmatic for this year's elections at a cost of P637 million. The company also bagged a P400-million contract to provide the automated election system for this year's polls. F3 Logistics, which is also getting flak for the VCM issues, won the contract to transport the machines nationwide.
The glitches should prompt a thorough review of the deal with Smartmatic and the continuing use of the VCMs. Yesterday President Duterte also urged the Comelec to conduct a probe of the glitches, even as he expressed confidence that the elections have been generally free of fraud.
Automation is supposed to make voting so much easier. The next electoral exercise is three years away. The ordeal that voters suffered on election day 2022 must not be repeated.