EDITORIAL - Boosting COVID protection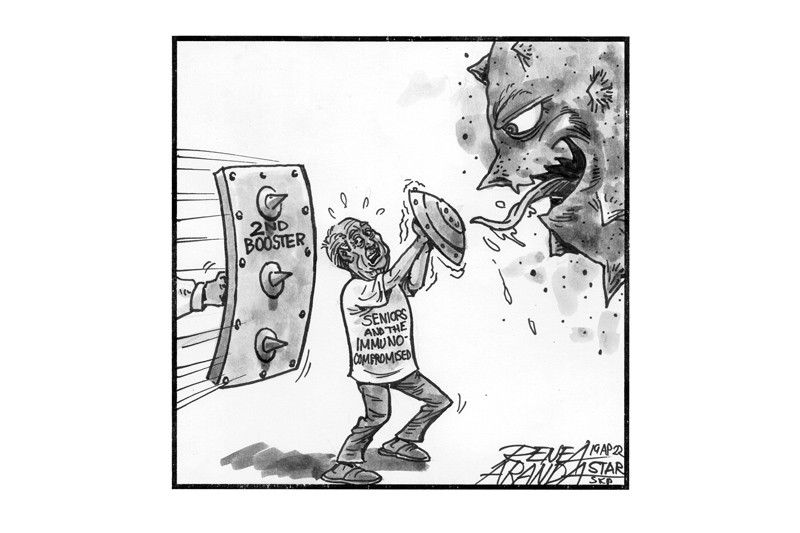 The second COVID booster shot campaign is on hold as a review and the implementing guidelines are finalized by health experts. While waiting for the green light, the national government must work closely with local units to increase the uptake of both boosters and primary doses.
This is not only to avoid wasting millions of vaccine doses whose expiry dates are approaching, but also to prevent a renewed COVID surge that could lead to hospitalization and death particularly among vulnerable sectors, and a return to crippling mobility restrictions.
Large parties are back, with people proudly touting that they are hugging and touching cheeks or even actually kissing again. Images during the Holy Week break showed health protocols tossed out the window at several top tourist destinations and in several religious activities. Worried administrators of Quiapo Church canceled the Black Nazarene procession as the crowd of devotees wanting to touch the image rapidly swelled.
Yesterday, the World Health Organization warned that the country could have up to 300,000 active cases by next month as Filipinos suffering from pandemic fatigue throw caution to the wind and ditch masking, social distancing and hand hygiene.
The weakening of adherence to COVID safety protocols is happening as health experts warn that immunity provided by vaccines is waning, and as more contagious strains of the coronavirus emerge. Despite the availability of vaccines and boosters, uptake is low, even among the vulnerable elderly and immune compromised.
The complacency is driven by the perception that two vaccine doses are enough, especially if combined with previous COVID infection. Scientists, however, have warned that unlike the stable viruses that cause measles and polio, allowing lifetime inoculation with only one round of shots, the COVID-causing SARS-CoV-2 keeps mutating.
Amid increasing cases of breakthrough infections, the pharmaceutical industry is tweaking and reviewing the design of COVID vaccines to see if entirely new products are needed against the mutations. In the meantime, several doses of the existing ones are proving to be effective in preventing critical infection and death.
All health experts keep warning that the pandemic isn't over. Government officials must not allow the election campaign to distract them from the COVID vaccination and booster program.