EDITORIAL - Overcoming hesitancy
January 23, 2022 | 12:00am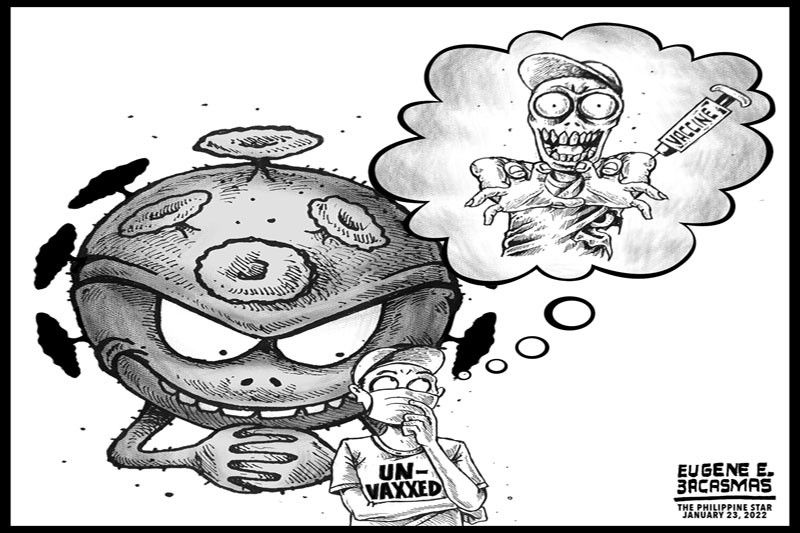 With a combination of incentives and disincentives, the country is seeing vaccine hesitancy dropping. Surveys conducted by pollster Social Weather Stations Inc. have shown vaccine hesitancy falling steadily since May last year, when 33 percent of the population expressed unwillingness to get their COVID shot.
That survey was taken about three months into the rollout of the vaccines, and while the Alpha and Beta variants were fueling a killer COVID surge that was overwhelming hospitals and crematoriums.
Fear of infection and death undoubtedly convinced more people to take their COVID jabs, even if the vaccines were authorized only for emergency use. The 33 percent of Filipinos unwilling to be vaccinated slid to 21 percent in June and 18 percent in September. In the latest SWS survey taken from Dec. 12 to 16, the figure had dropped to eight percent.
Those who were uncertain about getting their shots also fell steadily in the SWS polls, from 35 percent in May last year, 24 in June, 19 in September and six percent in the December survey.
Together, however, that's still 14 percent of Filipinos who remain unwilling to get their COVID shots or haven't made up their mind about inoculation. That's about 15 million Filipinos who are at high risk of catching SARS-CoV-2 and suffering from critical infection and possible death from COVID or its complications.
Health experts have also warned that as long as there is a large segment of the population that remains unvaccinated, there is a greater chance of more virus mutations emerging, which could delay recovery from the pandemic. The survey results should inspire additional effort to draw the holdouts to vaccination centers.
Measures are being undertaken to make vaccination more accessible, by making the jabs available even at selected pharmacies, private clinics, the Manila Zoo and transport hubs. The private sector and local government units have also imposed various restrictions on the unvaccinated.
What must be ramped up are efforts to counteract the disinformation and scare tactics employed by anti-vaxxers and spread mostly through social media about vaccines. A year into the global vaccination campaign, there are still Filipinos who genuinely believe COVID shots would turn them into zombies, and that there is a conspiracy to depopulate the country. It would be funny if it didn't have such adverse consequences on public health and the pandemic response. The government, together with other sectors of society, must do more to help people make informed choices about their health.