EDITORIAL - Self-testing
January 20, 2022 | 12:00am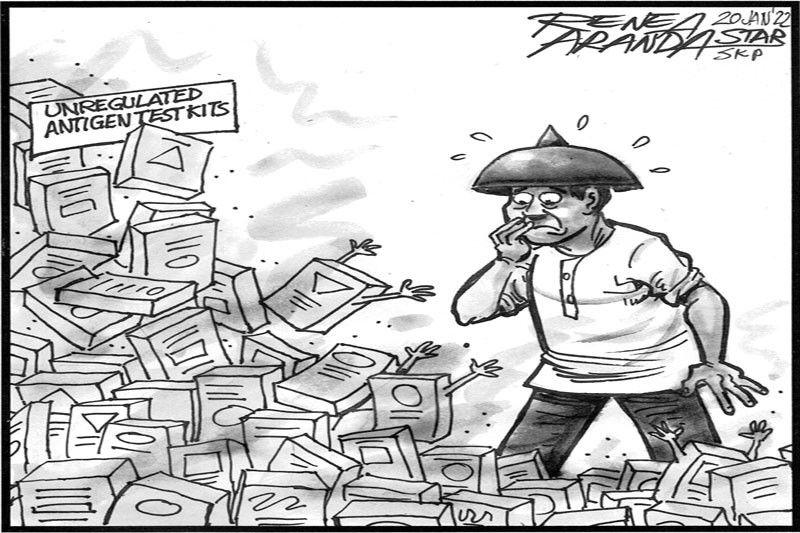 Daily new COVID cases nationwide further slowed down to 22,958 yesterday, even as the spread of the coronavirus, believed driven by the now dominant Omicron variant, accelerated outside the National Capital Region and neighboring areas.
Health experts have stressed that it's still too early to declare that the latest COVID surge is slowing down. The number of cases usually goes down on Tuesdays and Wednesdays, attributed mainly to the fewer testing centers that operate during weekends.
These days, another possible reason for the lower numbers is the increasing popularity of rapid antigen testing, whose results are not reported to the Department of Health.
DOH officials have said the supposed protocol is for barangay personnel to keep track of antigen results in their respective jurisdictions. Many antigen tests, however, are administered in private establishments. These days, as the Omicron-fueled surge infects entire households, people are also self-administering antigen tests at home.
Health officials have stressed that no self-administered antigen test has been approved even for emergency or compassionate use in the Philippines by the Food and Drug Administration. The DOH has also warned that self-testing, if not done properly, could lead to false results, and that the less invasive saliva antigen test is particularly unreliable.
The antigen tests, however, continue to gain popularity because of two things. One is their much lower price compared to the gold standard reverse transcription-polymerase chain reaction test. The cheapest RT-PCR, the saliva-based test offered exclusively by the Philippine Red Cross, costs P1,500. In contrast, an antigen test approved by the FDA for administration by a professional and sold in a major pharmacy chain costs only P500, or P12,500 per box of 25 kits, while the saliva antigen kit costs P399 each.
The second reason is the ever-increasing availability of antigen test kits, which can be obtained online and from unauthorized dealers. Each test can cost as low as P150. Such unauthorized test kits are even finding their way to sidewalk stalls selling face masks.
Inaccurate results from such tests can skew COVID figures and adversely affect the pandemic response, including alert level classifications. They can also aggravate infection as people with false negative results leave their homes, mingle with co-workers, take public transportation and go to markets and other crowded public places.
The government must tighten regulation of the distribution, sale and use of antigen tests. And it must find a way to keep track of positive antigen test results.