EDITORIAL - No vax, no ride
January 15, 2022 | 12:00am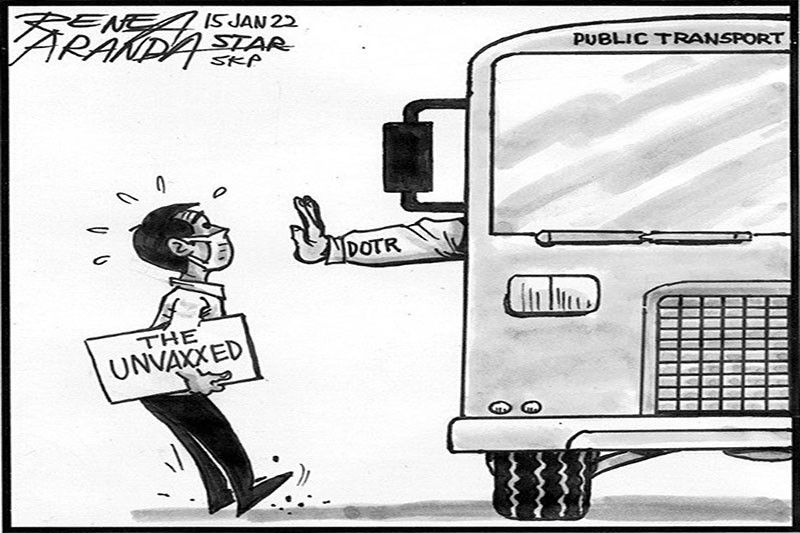 In a pandemic, according to doctors advising the government on COVID health protocols, the state implements measures requiring public cooperation first through persuasion. This was the case as the government rolled out COVID vaccines on March 1 last year.
As more vaccines arrived, appeals to persuade people to get their jabs were followed by incentives dangled by both the government and partners in the private sector. Discounts were offered for the vaccinated. Raffles were held, giving away cash, motorcycles, house and lot, and even cows and carabaos.
These days in Metro Manila, where there are now enough vaccines to allow booster shots along with the inoculation of minors, the government is brandishing sticks alongside the proffered carrots, to reach as many unvaccinated people as possible.
Amid a fresh surge of COVID believed fueled by the highly transmissible Omicron variant, the government is banning the unvaccinated from leaving their homes except to access essential goods and services. Houses and communities with high COVID cases are being placed under strict granular lockdown.
And beginning Monday in the National Capital Region, the unvaccinated will be banned from taking all forms of public transportation except tricycles, which will be up to local government units. The idea is to protect the unvaccinated from COVID, since they are the most vulnerable to infection. And while Omicron has managed to infect even the fully vaccinated and boosted, science and experience in most countries show that they typically have mild or no symptoms and don't land in the hospital.
In an unprecedented public health crisis, the government is also invoking the right and duty of the state to protect the majority who are vaccinated from those who continue to resist inoculation and are at high risk of infection. The sooner Omicron is contained, the faster businesses can reopen and livelihoods revived.
The only problem will be the proper implementation of the "no vax, no ride" policy. People who cannot be vaccinated for health reasons or who invoke religious reasons will need to prove it, along with their reason for going out of their homes and taking mass transportation. If unable to do so, they will be sent home. Those tasked to enforce the move must guard against abusive behavior in dealing with the unvaccinated. Mass transport operators and drivers must also be trained to spot fake vaccination cards.
Vaccination mandates, always controversial, is being implemented in many other countries. Stopping the rampage of Omicron will vindicate the mandate, but only if it is properly implemented.