EDITORIAL - Storming the heavens
January 9, 2022 | 12:00am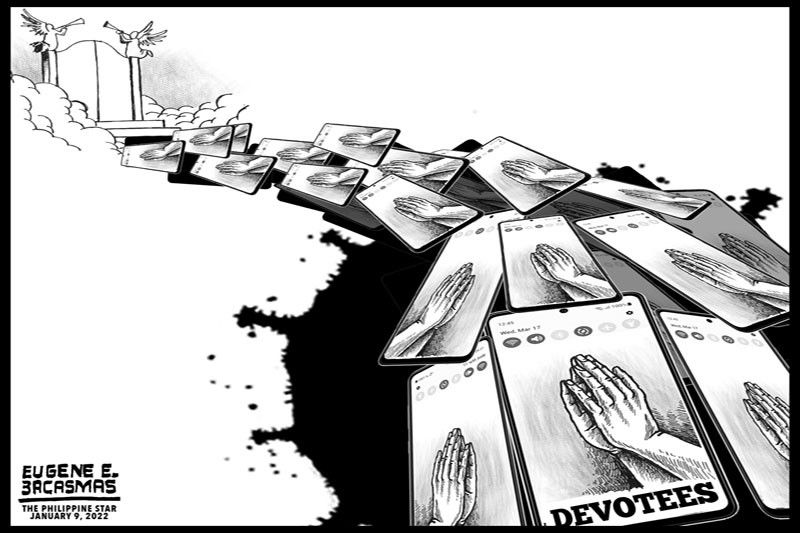 For the second year in a row, there will be no Traslacion the traditional procession of the Black Nazarene. And for the first time ever, even limited in-person attendance is not allowed at the mass celebrating the Feast of the Nazareno today.
The Minor Basilica of the Black Nazarene in Quiapo, Manila will instead celebrate mass that will be streamed live to the millions of Nazarene devotees. Streets and even alleys leading to the Quiapo Church have been cleared of vendors and barricaded. Over a thousand police personnel have been deployed to prevent devotees from physically attending the mass even from afar.
Behind this unprecedented development is an unprecedented public health crisis, whose worst surge yet is now unfolding. The parish had shut down the church from Jan. 3 to 6 for disinfection, including the surrounding areas where devotees typically overflow, in preparation for today's procession.
Last year the Traslacion had pushed through amid the pandemic, with masking and distancing enforced. The next weeks showed no adverse impact on the COVID situation. With COVID cases in the country plummeting last December, everyone thought the procession would again push through this year.
The feast, however, falls at the end of two weeks that saw new COVID cases doubling every two to three days – a rate associated with the highly transmissible Omicron variant – from a low 318 daily cases on Dec. 27 to 21,819 by Friday. And the fully vaccinated have not been spared.
Fr. Douglas Badong, parochial vicar of Quiapo Church, while clearly disappointed, said in an interview that the parish understood the reason for the government's decision to cancel the procession. God is everywhere, the priest told Nazarene devotees – a message also given by President Duterte as he apologized for the cancelation: God can be worshipped in any place, any time.
The World Health Organization has warned that while Omicron might be causing less severe infections than the Delta and Alpha variants, it can still sicken and kill, at a faster rate, and with the infection numbers so high they can overwhelm health systems.
The Philippines, with its inadequate healthcare facilities, weak contact tracing and COVID testing, will need prayers to survive this crisis. Even in the safety of their homes, Nazarene devotees can lead the way in storming the heavens.