EDITORIAL - Hotspots for violence
December 15, 2021 | 12:00am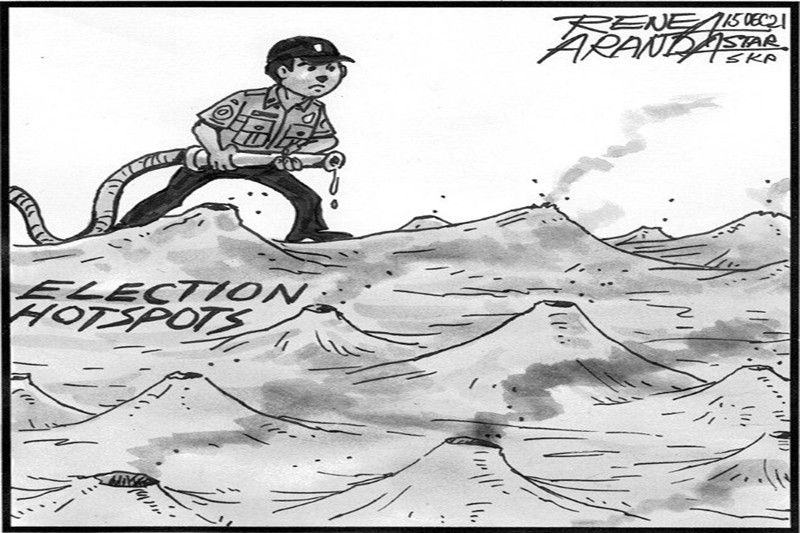 Over 500 areas nationwide have been identified as hotspots in the 2022 general elections, according to the Philippine National Police. Each hotspot, identified by PNP intelligence officers, is color-coded based on the potential for poll violence.
The PNP said 488 municipalities and 58 cities have been initially included in the list of areas that will be placed under closer monitoring for election-related violent incidents.
Areas coded green are the most peaceful while those under the red list are the worst, which might call for control by the Commission on Elections. This means the Comelec will have supervision over local officials in the red area.
Identification of hotspots was always done in previous elections, but violence continued, with deadly attacks being launched as soon as persons declared their intent to seek elective office. This is again being seen as the country prepares for the general elections in May 2022. Even before the filing of certificates of candidacy this year, several potential aspirants have been murdered, with probers pointing to politics as the likeliest motive.
The attacks are facilitated by the ease of obtaining unlicensed guns in this country and the belief that weak law enforcement will allow the perpetrators to get away with their crime. The belief is strongest among entrenched politicians who think they have control over the criminal justice system in their turfs.
An election gun ban will take effect beginning Jan. 9, but enforcement of such bans has always been tricky especially in conflict zones where rebels and extremist bandits operate.
The PNP said many of the areas in the so-called red list of hotspots are in the Bangsamoro Autonomous Region in Muslim Mindanao. The Moro Islamic Liberation Front, which has won an extension of its supervision over BARMM, can show that the peace effort is working, by clamping down on election violence in the region.
Elsewhere in the country, law enforcers need to intensify efforts to prevent election violence. The PNP must prevent incumbent officials from using police and civilian force multipliers as private armies. Candidates who are supported by armed groups must also be prevented from using force to harass rivals and their supporters. No one must be allowed to use violence to undermine the vote.