EDITORIAL - Worth the jail time
December 5, 2021 | 12:00am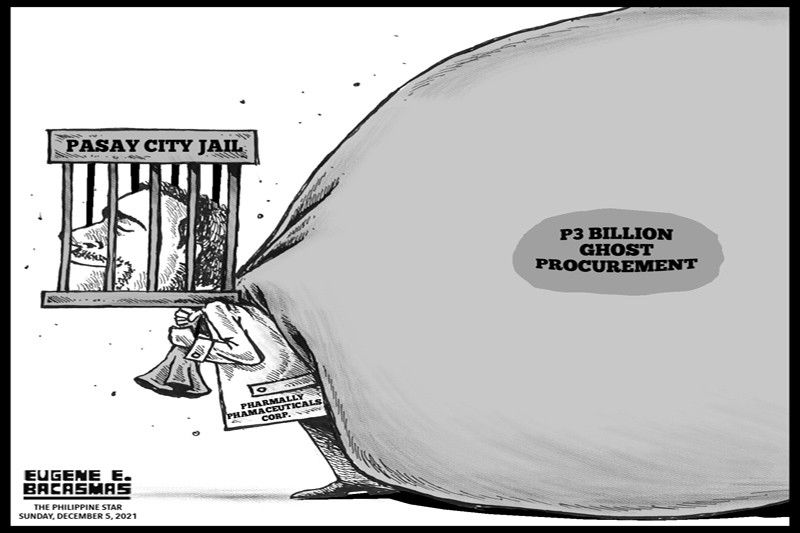 No one wants to be detained, even in an air-conditioned room at the Senate building. But the Senate room is five-star detention compared to the Pasay City jail, where cells have no air conditioning, and where the congestion rate is placed at 1,000 percent by its supervising bureau.
Yet executives of Pharmally Pharmaceuticals Corp., who by most indications are used to the high life, prefer to endure detention in the city jail rather than provide the Senate Blue Ribbon committee documents showing the financial statements submitted by the company to the Bureau of Internal Revenue and Securities and Exchange Commission.
For any legitimate corporation with nothing to hide, there should be no problem providing such documents to the Senate. That Pharmally executives Linconn Ong, Mohit Dargani and his sister Twinkle Dargani have chosen detention over the presentation of the documents to a congressional inquiry can only bolster allegations of anomalies tainting the government's award of multibillion-peso pandemic supply contracts to a company with an initial capitalization of only P625,000.
Ong and Mohit Dargani were transferred to the city jail from the Senate, where Twinkle Dargani remains detained, after Mohit gave three possible locations where the missing documents might be found. When the Office of the Senate Sergeant-at-Arms offered to go to the sites, Mohit "hemmed and hawed" until exasperated senators decided to send him and Ong, who has asked the Supreme Court to order his release, sent to the city jail.
Last Nov. 14, the Dargani siblings were about to take off for Malaysia on a chartered jet from the Davao International Airport when a team from the Senate's Office of the Sergeant-at-Arms, acting on a tip, stopped the flight and arrested them. How did the siblings get past immigration officers in Davao City?
Last Friday, Ong and Mohit Dargani faced the Blue Ribbon led by Richard Gordon, where more questions were raised about the P11 billion in supply contracts bagged by Pharmally from the Procurement Service of the Department of Budget and Management. A private certified public accountant consulted for the probe noted that the company's audited financial statements covered P7.2 billion worth of purchases, but only P3.8 billion in supplies could be accounted for with supporting documents.
This led senators to suspect that at least P3 billion in face masks, face shields and personal protective equipment supposedly sold by Pharmally to the government were "ghost" procurements. Such a staggering amount can make detention at the Pasay City jail worth it.