EDITORIAL - Above the rules
December 4, 2021 | 12:00am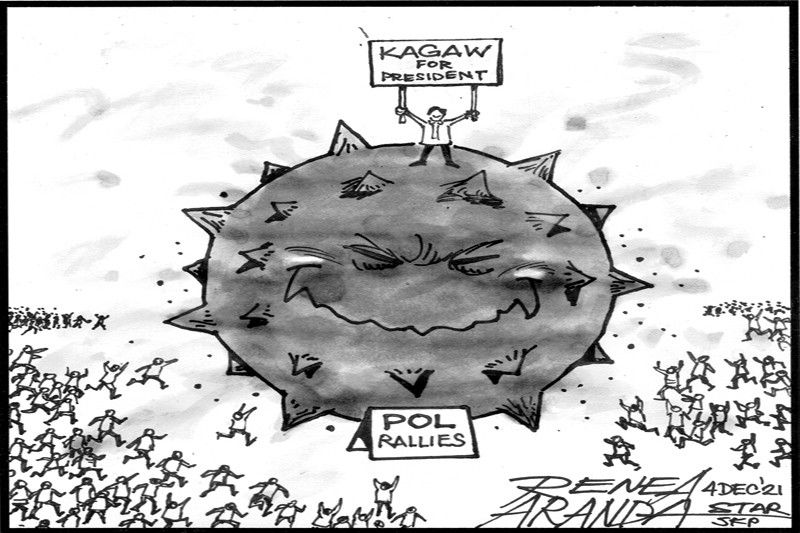 The Commission on Elections has already warned that violations of COVID health safety protocols by candidates, political parties and their supporters will be considered election offenses. The Comelec included compliance with pandemic health protocols in its campaign rules for the 2022 vote amid scenes of large crowds gathering for political activities since the filing of candidacies in October.
As recent reports have shown, however, such gatherings continue across the country, with participants heedless of physical distancing guidelines and some not even wearing face masks. Such crowding can be seen even right outside the main office of the Comelec in Intramuros, Manila.
While there are several areas that are now at low risk for COVID, the country, like the rest of the world, is not yet out of the woods. The latest coronavirus variant of concern, Omicron, is now spreading rapidly around the planet. Countries are closing their borders, restoring mask mandates and reimposing mobility restrictions while ramping up vaccinations and booster shots.
It will take a few weeks before scientists get a clearer picture of the level of threat posed by Omicron. Even before the latest variant emerged, however, the world was still grappling with the highly infectious Delta variant. Delta is being blamed for an ongoing fourth COVID wave in Europe, hitting mostly the unvaccinated including children but also causing breakthrough infections.
The world has seen how certain election activities have contributed to deadly COVID surges in countries such as India. While COVID cases have gone down in the Philippines, there is no certainty that the downtrend can be sustained. The country still has a long way to go in achieving vaccination targets, and there has been little improvement in the weakest components of the pandemic response, contact tracing and testing.
After suffering through crippling lockdowns during the surges this year fueled by the Alpha, Beta and then Delta variants, the country must consolidate its gains. Candidates especially those seeking high office must set the example and rein in their own supporters.
The Comelec must coordinate with health, local government and police authorities and make good on its warning to treat pandemic protocol violations as election offenses. Voters can do their part by remembering the candidates who ignore the protocols. Those who put themselves above the rules even before they are in office cannot be expected to respect the law in case they win.