EDITORIAL-The other pandemic
December 1, 2021 | 12:00am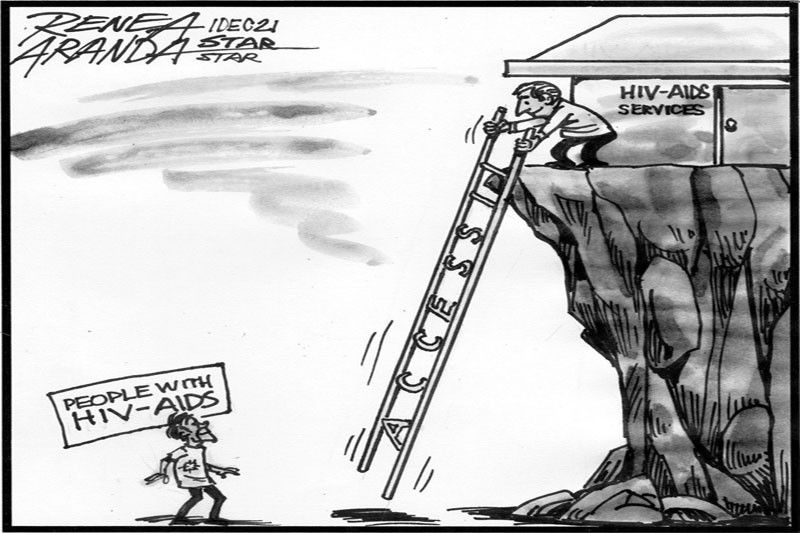 Before COVID-19, the world was already grappling with another pandemic: Acquired Immune Deficiency Syndrome. COVID has derailed the battle against AIDS, with inequalities widening in access to essential services meant to prevent and treat HIV.
The problem is of particular concern in the Philippines, where the United Nations Program on HIV/AIDS reported this year a new wave of the potentially deadly disease. Last May, as the country battled a COVID surge driven by the more infectious Alpha and Beta variants, UNAIDS reported that the Philippines had the world's fastest growing HIV infection rate, with 111,000 people living with the human immunodeficiency virus as of 2020.
UNAIDS reported that between 2010 and 2020, the HIV/AIDS new infection rate in the country stood at 237 percent, with young gay men and transgender women in urban centers accounting for most of the cases. From January 1984 to February this year, the country recorded an average of 30 daily new HIV infections, according to data from the Department of Health Epidemiology Bureau. Eighty percent of those infected were between 15 and 34 years old.
Despite laws that ban discrimination against persons living with HIV/AIDS and which provide free access to consultation and treatment, AIDS-related deaths in the country have also surged by 450 percent, mostly among young people from marginalized sectors who are not easily reached by public health services, UNAIDS noted.
Today, four decades after the world's first AIDS cases were reported, World AIDS Day is being marked with emphasis on ending inequalities that deprive people of access to essential HIV services. UNAIDS warns that if world leaders fail to tackle the problem, up to 7.7 million people could die of AIDS-related causes over the next 10 years. If global AIDS strategies from 2021 to 2026 stay on track, however, UNAIDS believes up to 4.6 million of those deaths can be averted.
Much progress has been achieved in the battle against HIV/AIDS. As of June this year, 28.2 million people had access to HIV treatment – an increase from 7.8 million in 2010. But UNAIDS notes that progress has slowed down considerably. Even as 1.5 million new HIV infections were recorded worldwide last year, COVID-19 led to a significant reduction in HIV testing, according to UNAIDS. Today is meant to remind the world of the other pandemic that must be ended.