EDITORIAL - Commitments
November 27, 2021 | 12:00am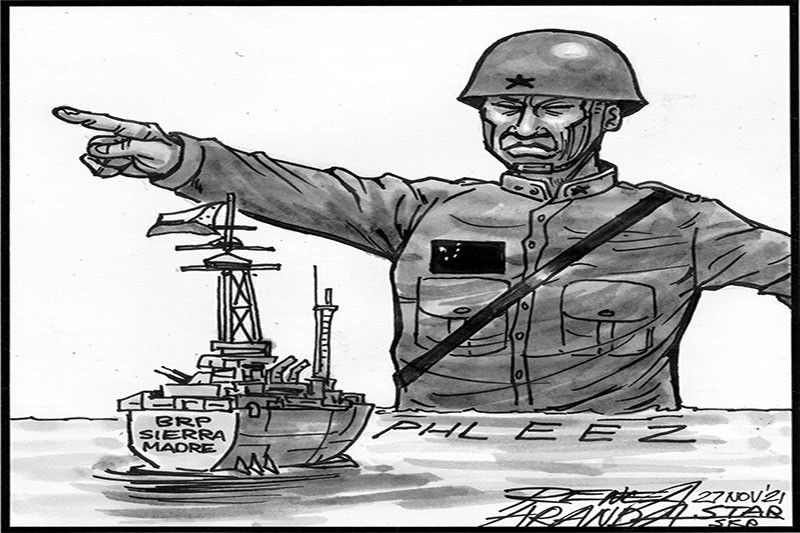 Did the Philippine government commit to Beijing the pullout of the BRP Sierra Madre from Ayungin Shoal?
Despite a denial from Defense Secretary Delfin Lorenzana, the question lingers, after Chinese coast guard vessels stopped blocking and harassing Philippine boats delivering supplies to Armed Forces personnel on the Sierra Madre, which is serving as a military outpost on Ayungin or Second Thomas Shoal.
On Nov. 23, two Philippine boats with Navy crew delivered supplies to the Sierra Madre, unhampered by the Chinese coast guard, which still sent a team on a rubber boat to take photos and video of the delivery.
This occurred a week after three ships of the Chinese coast guard blocked and fired water cannon on two Philippine boats on their way to the Sierra Madre. The Philippine boats were forced to turn back.
Lorenzana has been consistent in asserting the country's sovereign rights over areas within its 200-mile exclusive economic zone or EEZ, as defined under the United Nations Convention on the Law of the Sea. Did Beijing hallucinate over the supposed commitment from Manila to pull out the Sierra Madre? The World War II-vintage vessel has been beached on Ayungin since 1999.
Ayungin, apart from clearly lying within the Philippines' EEZ, was specifically cited in the 2016 ruling of the Permanent Court of Arbitration in The Hague as one of the spots in the South China Sea over which the country has sovereign rights. The Chinese coast guard, which is part of its military, has no right to enter the shoal, particularly since its ludicrous nine-dash-line claim over nearly the entire South China Sea was invalidated by the PCA. China should dismantle its military base and get out of Panganiban (Mischief Reef), over which the PCA also awarded the Philippines sovereign rights.
After the harassment with a water cannon, Beijing declared that its coast guard was protecting its waters from "trespassers." Several countries plus the European Union have expressed concern over the harassment. The Philippines must build on such sentiments to muster international support in asserting its sovereign rights and compliance with the arbitral ruling.
At the same time, the country must sufficiently build its own credible defense capability. The next time Philippine forces see trespassers from China or any other country in Ayungin, it must be able to shoo them away.