EDITORIAL - End violence against women
November 25, 2021 | 12:00am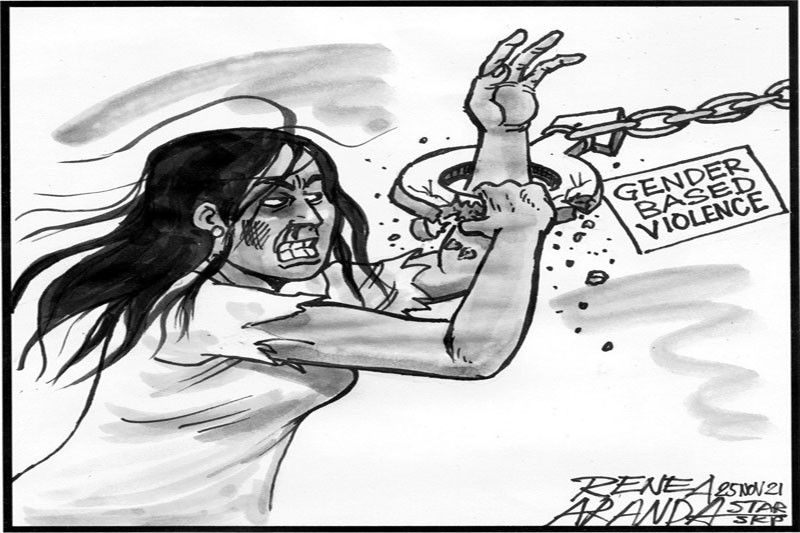 Pandemic lockdowns gave families an abundance of time for bonding. For those whose home environment is far from idyllic, however, stay-at-home mandates during the COVID-19 pandemic opened opportunities for abuse and domestic violence.
Among children, the problem was online sexual abuse and exploitation. Child welfare advocates reported a spike in such cases as children were quarantined at home throughout the pandemic and many parents lost their livelihoods. Joblessness can bring out a violent streak in men, and make them vent their frustrations on women and girls in the family.
For women, the lockdowns opened the doors to sexual abuse and exploitation as well as domestic violence. The United Nations says that nearly one in three women worldwide suffered abuse. Data gathered during the pandemic by UN Women showed two in three women reporting that they or a woman they know experienced some form of violence and were more likely to face food insecurity. Only 10 percent of the women expressed readiness to seek police help.
In the Philippines, domestic violence targeting mainly women and girls has been a problem even before the pandemic. Many women in the country are still unaware of tough laws protecting them from domestic violence and various forms of gender-based harassment, discrimination and exploitation.
The lack of awareness of the laws is highest among low-income households where women and girls have limited education. Among higher-income families, however, women's rights advocates have noted a reluctance of victims to report domestic violence. There have also been complaints of barangay personnel, who are tasked by law to assist victims of domestic violence, refusing to interfere in what they consider to be family problems.
As International Day for the Elimination of Violence Against Women is marked today, UN Women says confronting the problem starts with believing survivors. It is pushing for essential services to assist victims of gender-based violence. Groups worldwide are launching 16 days of activism culminating on Dec. 10, International Human Rights Day, to raise awareness that violence against women can be prevented and must end now.