EDITORIAL- The other pandemic
November 24, 2021 | 12:00am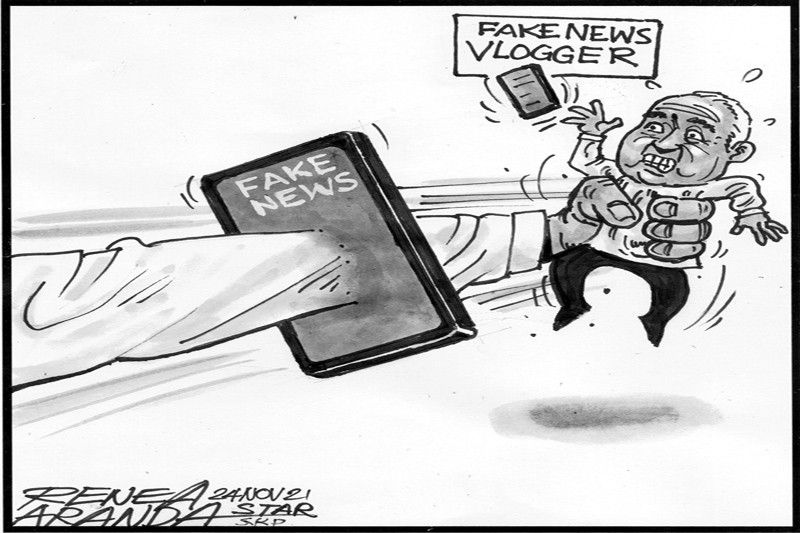 The anonymity afforded by social media has made it an ideal platform for the spread of malicious and irresponsible information. These days, amid the raging COVID-19 pandemic and concomitant mobility restrictions, people are lamenting the pandemic of fake news, deliberate disinformation and outright smear campaigns launched on social media.
Last Monday morning, the National Bureau of Investigation arrested vlogger Manuel "Boy" Mejorada, who had been in hiding since the Pasay City Regional Trial Court found him guilty of four counts of cyber libel and issued a warrant for his arrest last year.
The Supreme Court has affirmed the conviction for violation of Republic Act 10175 or the Cybercrime Prevention Act of 2012. Mejorada, a former provincial administrator of Iloilo, was sentenced to two to four years in prison for his social media posts accusing Sen. Franklin Drilon of corruption in connection with several projects pushed by the senator. Drilon filed the complaint for cyber libel.
Social media is being used not only for smear campaigns but also for spreading fake news and disinformation about critical issues such as the COVID vaccination program. This year social media giant Facebook began taking down posts providing misinformation on vaccines.
The online smear campaigns are going on overdrive in this election season. Online platforms are being used even for placing fake purchase orders for large amounts of food and other items in the name of certain candidates. Vice President Leni Robredo and Manila Mayor Isko Moreno have been victims. So have opposition senators Risa Hontiveros and Francis Pangilinan.
Regulating cyberspace has always been challenging. So people welcome the rare victories in efforts to fight this other pandemic of fake news and smear campaigns. At the same time, more effort is needed to improve public discernment of fake news and black propaganda spread through social media.