EDITORIAL - Preventing a resurgence
November 23, 2021 | 12:00am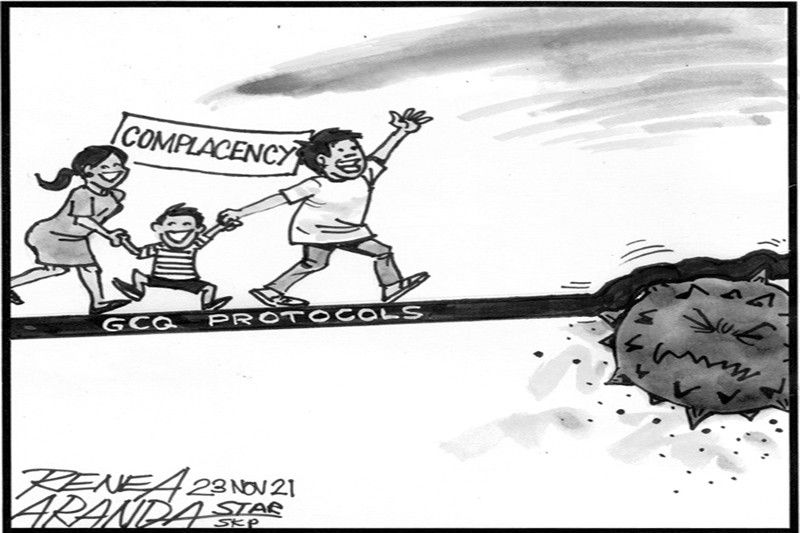 After jumping to 2,227 new cases on Sunday, COVID infections again fell below 1,000 yesterday for the first time in a week. The daily tally of 984 did not include data from five laboratories, according to the Department of Health.
DOH officials have repeatedly warned the public against complacency as pandemic restrictions are eased to revive the economy in the final quarter of the year and allow people to have some cheer during the Christmas season.
In Europe, restrictions are being reimposed in several countries amid a fresh surge in COVID cases attributed to the highly contagious Delta strain and its sub-variant that is said to be even more infectious. Beginning Nov. 22, Austria became the first European country to reimpose a full COVID lockdown, with Germany saying it might do the same, sending jitters through financial markets. The Netherlands has been under partial lockdown since Nov. 13. Beginning Feb. 1 next year, vaccination will also be required for all Austrians.
Even with new infections slowing in the Philippines, health experts have also pointed out that COVID deaths remain high. Last Sunday, 175 deaths were recorded; 99 were added yesterday, bringing the total to 45,808. The numbers do not include the people who die after recovering from the illness but suffer from post-COVID complications such as cardiac and respiratory problems.
As restrictions on minors are lifted, there is also growing concern about pediatric infections, since most children are not yet vaccinated against COVID.
Tracking infection trends, the OCTA Research Group says daily cases could go down to as low as 500 by December, allowing Metro Manila to be eased to the lowest Alert Level 1 – but only if people continue strictly observing COVID safety protocols.
Tossing out those protocols is one of the reasons being cited for the resurgence of COVID in Europe. Masking and physical distancing have been junked even as vaccine hesitancy persists in many areas, while efficacy of the jabs has also started waning among the first groups to be inoculated.
The world is now seeing the consequences of all these factors. If Filipinos want to avoid a return to lockdowns, there must be no room for complacency.