EDITORIAL - Preparing for boosters
November 7, 2021 | 12:00am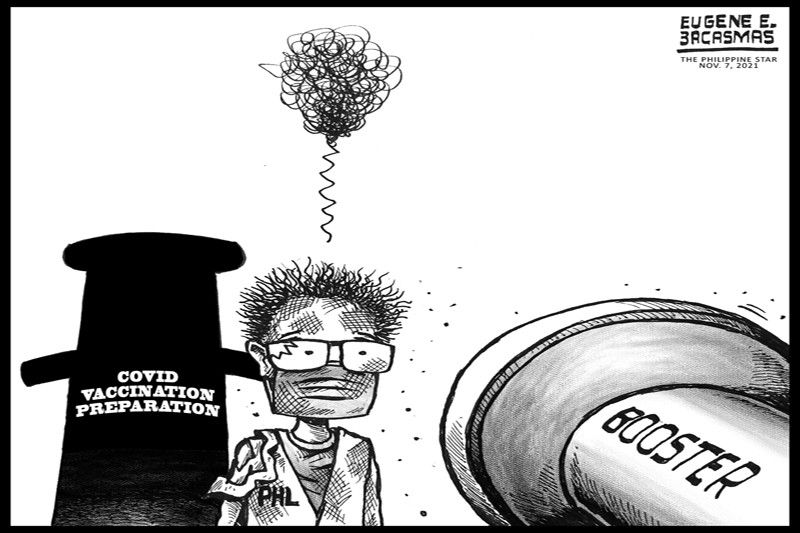 In every country there are people who resist vaccination. The same is true in the Philippines, where vaccine hesitancy has abated, but remains high, as indicated in the latest survey showing 64 percent of Filipinos willing to get their anti-COVID jabs or who have already received their shots.
The 64 percent is up from the 55 percent in June and double the 32 percent in May this year, when the Social Weather Stations Inc. began taking a poll on vaccine willingness. The latest survey, taken from Sept. 27 to 30, showed 18 percent of the 1,500 adult respondents saying they did not want to get vaccinated against COVID while 19 percent were uncertain about it.
That vaccine hesitancy level remains significant. Even as the government confronts the problem, it will have to prepare for the administration of boosters and third doses to the fully vaccinated. A limited booster program will soon be rolled out for the first batch of vaccinees – the health frontliners. Many of them had their full two doses by the end of March or early April, so their six months of vaccine efficacy are up. The elderly and immune compromised are next in line.
After several months of COVID vaccinations, the booster program must be carried out with fewer glitches. Personal information on vaccine recipients has been collected and recorded so jab scheduling should be orderly. Before the booster program is fully rolled out, the government should be able to release uniform vaccination cards, or at least set up a central database or an interoperable system for accessing vaccination data from various sources.
There should also be less wastage and better logistics arrangements for boosters or third doses. And there should be fewer mistakes in the inoculation itself. Enough people now have sufficient experience in properly administering the jabs, especially when a single vial contains multiple doses such as the mRNA vaccines of Pfizer/BioNTech and Moderna.
The lack of preparedness for the rollout of COVID vaccination can be forgiven in the initial phase. There is no excuse for inadequate preparation for the boosters and third doses.