EDITORIAL - Not yet time
October 28, 2021 | 12:00am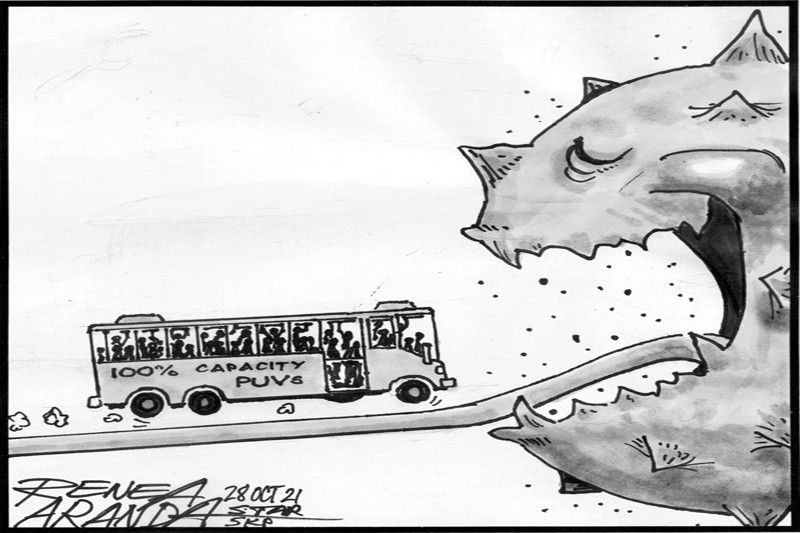 As the World Health Organization warned this week, the COVID pandemic is far from over. While advanced economies with an abundance of vaccines are reopening their economies, with some even ditching mask mandates, developing countries including the Philippines continue to struggle with vaccine supplies.
WHO Director General Tedros Adhanom Ghebreyesus said the pandemic "will not be over anywhere until it's over everywhere."A WHO statement stressed that "the use of masks, physical distancing, hand hygiene, and improving ventilation of indoor spaces remain key to reducing transmission" of SARS-CoV-2, the virus that causes COVID.
These warnings must be kept in mind amid proposals to allow 100 percent capacity in public utility vehicles. Vaccine czar Carlito Galvez, the chief implementer of the National Action Plan on COVID-19, expressed concern about the proposal. He prefers instead a gradual increase in PUV capacity from the current 50 to 75 percent.
What is needed at this point, in fact, is better enforcement of seating capacities and other COVID safety protocols particularly in jeepneys. Even without government approval, jeepneys can be seen these days 100 percent full. With the approach of the holidays, street children are even allowed to jump into some jeepneys, singing carols and begging passengers for alms.
The government understands the need of PUV operators and drivers to earn more, especially as fuel prices soar, and the need of commuters to have more rides available. Putting public health at risk by tossing away health protocols, however, can lead to a resurgence of infections, which can force a return to crippling mobility restrictions.
Health experts have already expressed concern about the lax enforcement of COVID safety protocols in mass transportation. While a return to 100 passenger capacity is the ideal for all PUVs, relaxing one's guard at this time could mean wasting all the sacrifices of the past 19 months to contain the pandemic.