EDITORIAL - Super spreader on the beach
October 27, 2021 | 12:00am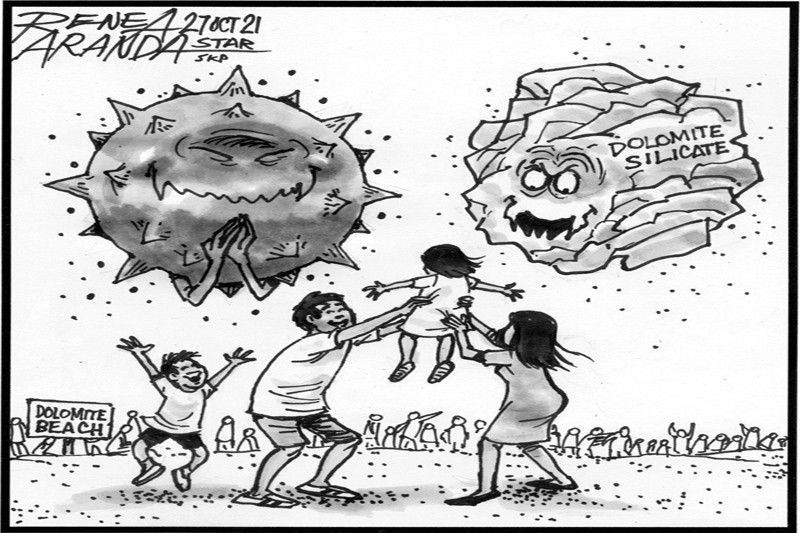 Coinciding with the easing of the National Capital Region to a more relaxed Alert Level 3, the government recently opened the Manila Baywalk Dolomite Beach to the public. And then, as people arrived in droves to the only stretch of white beach in the NCR, even if manmade, the government threw up its hands in surrender, saying crowd control had become too complicated.
The crush of people could have been anticipated, considering the crowds that had previously visited the beach during its soft opening. This was before continued work on the artificial "Boracay in Manila" and the COVID surge prompted a return to lockdowns and the closure of the beach.
True enough, as restrictions were eased and tourist attractions were reopened in Metro Manila, the artificial beach drew the largest crowds. Even in heavy rain spawned by a low-pressure area, visitors simply opened umbrellas and refused to leave the beach. Authorities had to extend the visiting hours because many people wanted to watch the famous Manila Bay sunset from the beach.
Seeing images of the beach crowd, the Department of Health expressed dismay over the failure to impose crowd control. Manila Mayor Isko Moreno also expressed concern that the beach was turning into a COVID super spreader site. Malacañang aired the same concern and reminded the public that children are allowed outdoors only for essential purposes.
In reaction, the Department of Environment and Natural Resources announced that children ages 12 and younger would no longer be allowed on the beach. Visits will also be limited to just 15 minutes, according to DENR officials.
Shouldn't the rules have been drawn up before the opening? And how hard is it to control the crowd at a site with one entrance? Many tourist destinations enforce carrying capacities for crowd control. Fort Santiago occupies a much larger area than the dolomite beach, but the fort can enforce a carrying capacity to ensure physical distancing in the time of COVID. The number of people allowed to enter is regulated even in Rizal Park.
Authorities are now scrambling to correct the deficiencies. Efficient crowd control can't come sooner. The dolomite beach is starting to look like a microcosm of the chaotic pandemic response.