EDITORIAL - Safe campaigning
October 26, 2021 | 12:00am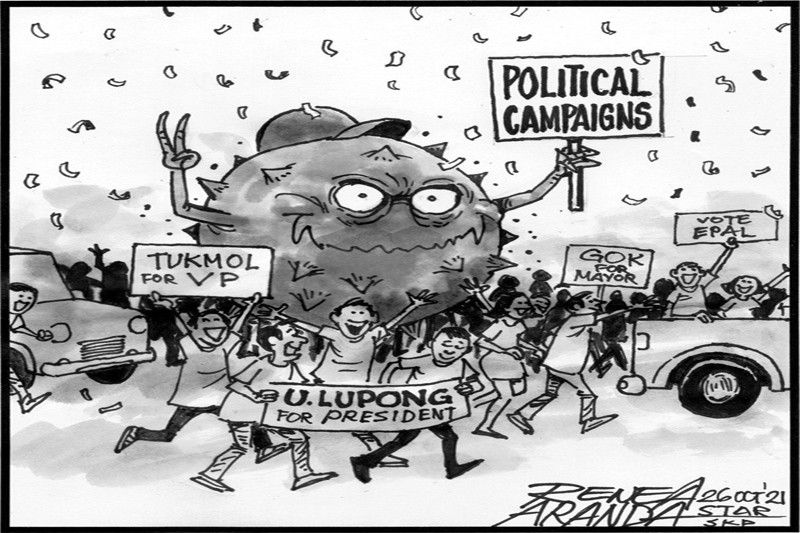 With certificates of candidacy filed, and with the Supreme Court ruling that there is no such thing as premature campaigning, candidates have started raising their profiles for the 2022 general elections.
The campaigning will be conducted even as COVID-19 continues to rage, with the coronavirus continually mutating and posing risks of resurgence. Candidates and supporters must be mindful of those continuing risks, especially in areas with low vaccination rates.
Even in Metro Manila, sufficient vaccination for herd protection has not yet been attained. The Delta variant is also infecting even children and accounting for breakthrough infections and deaths even among the fully vaccinated.
While social media can be widely used for safe campaigning, most politicians still see the need for face-to-face pitching of their candidacies. Since the filing of candidacies, political gatherings have started, with meetings, marches and motorcades being staged.
Candidates must take full responsibility for ensuring that such gatherings will not turn into COVID superspreader events. They will have to coordinate closely with authorities for such activities, to ensure strict compliance with COVID safety protocols. The Metropolitan Manila Development Authority, for example, has advised politicians to get a permit for motorcades, if only for traffic management, since holiday traffic is building up in the capital region.
While the country is now at low risk for COVID-19, as declared by the Department of Health, it is not yet time to let down one's guard. A coronavirus sub-variant said to be about 10 times more contagious than Delta has started spreading in the United Kingdom and nearly 30 other countries including the United States. In the meantime, vaccine efficacies are waning for those who were first in line for the shots, raising their risk of breakthrough infections.
Last year, COVID cases also dropped dramatically with the approach of the holidays. The country happily prepared for economic revival during summer, with travel restrictions eased and tourist destinations reopened. And then the Alpha and Beta variants struck, beginning in late March and bringing sickness and death through the summer.
After 19 months of restrictions, people have become used to COVID safety protocols. So it shouldn't be such a challenge to maintain strict adherence to masking, physical distancing and other safety measures during campaign activities. Surely candidates themselves don't want themselves and their supporters getting sick, or worse, from their gatherings for the 2022 race. They should all reach the finish line healthy and safe.