EDITORIAL - Clarity needed
October 23, 2021 | 12:00am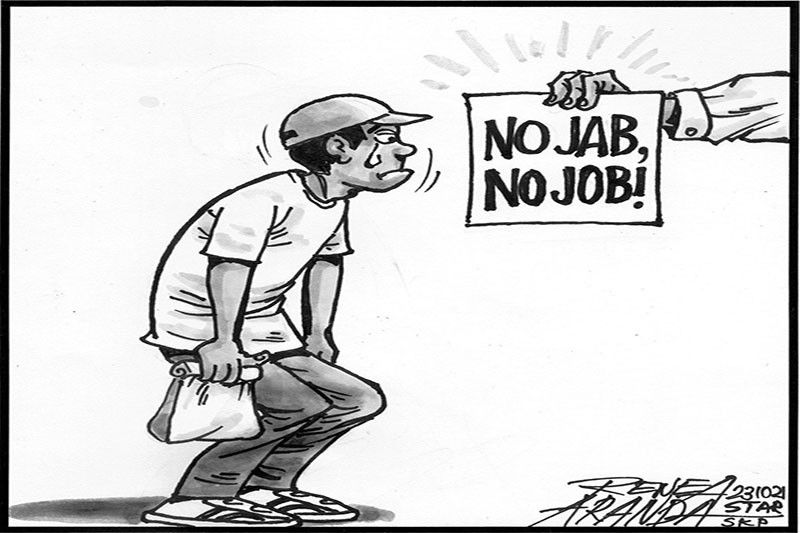 With the vaccine czar saying the country is now getting more supplies of the much-needed anti-COVID jabs, the government should speed up the crafting of rules governing vaccination policies in the private sector.
Confusion is reigning over the rules especially in sectors requiring intimate or close physical contact between employees and clients, such as therapeutic massage spas, personal grooming services and restaurants.
Private entrepreneurs who want to keep both their staff and customers safe want to make vaccination mandatory for their employees. On the other hand, persons have a right to refuse vaccination.
Around the world, vaccines have been shown to work in taming the spread of COVID. In the United States where there is a strong anti-vaxxer movement, frustrated health experts are describing the ongoing surge in Delta-driven cases as a pandemic of the unvaccinated. US President Joe Biden has ordered sweeping vaccine mandates in various sectors, but some states are pushing back.
In the Philippines, can state power be invoked, in the interest of the greater good, for a vaccine mandate in the private sector? The issue will likely go to the Supreme Court. In the meantime, however, the economy is in dire need of revival. The government cannot wait for a green light from the SC; it must come up with clear guidelines on vaccination rules at least in the National Capital Region, where the vaccination of the general population has started as jab targets for priority adult sectors are nearing attainment.
Employers want to keep workplaces, their staff and clients safe from COVID infection, to spur business revival. But Malacañang, health and labor officials have yet to get their act together. They seem to be in agreement only in saying employees cannot be fired for refusing to be vaccinated, even in sectors where there is a high risk of COVID transmission. Labor officials say employers can require unvaccinated workers to go on furlough while waiting for their jabs.
Can vaccination be required for hiring? Even if it can't, it would be difficult for the government to monitor if a private entrepreneur is bypassing job applicants who are unvaccinated. Private businesses, worried about being slapped with formal complaints or lawsuits in their effort to keep workplaces safe from COVID, want clarity. If the government wants a safe economic reopening, that clarity should be given ASAP.