EDITORIAL - Reopening safely
October 15, 2021 | 12:00am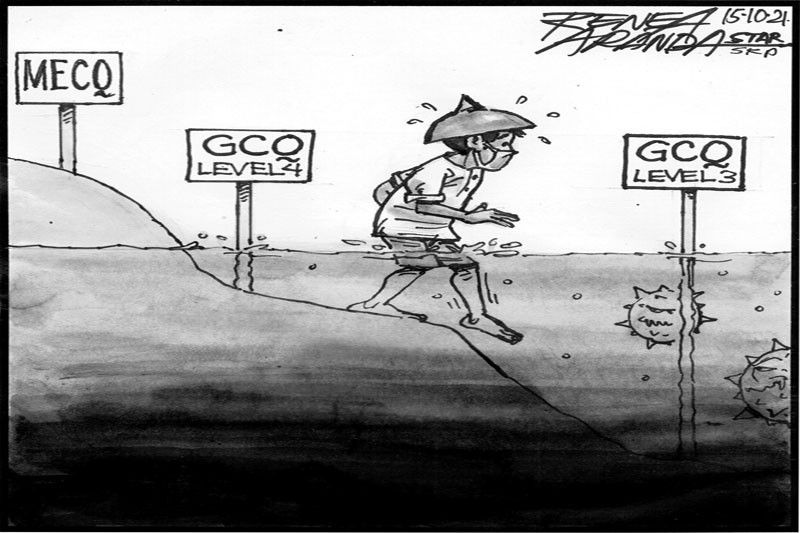 With COVID infection indicators going down, the government has decided to ease the National Capital Region to Alert Level 3, allowing more businesses to reopen and increasing capacities for activities such as indoor dining and religious services. The easing is meant to pave the way for a measure of economic recovery in the NCR, which accounts for a third of national production, during the fourth quarter holiday season.
With the easing, however, it is prudent to bear in mind that the NCR and several areas in the country are just starting to emerge from the worst COVID surge driven by the Delta variant, with the death toll breaching 40,000 this week.
Health experts have pointed out that the slowdown in infections, at least in the NCR, can be attributed to a combination of factors: progress in COVID inoculation, although the vaccine supply remains inadequate, and continued adherence to health safety protocols.
Some Metro Manila mayors have cautioned against allowing children outdoors under Alert Level 3, noting that pediatric vaccination is just starting. Unlike the original COVID strain and earlier variants of concern, Delta has infected even children of all ages. Children can also be carriers of the virus, and can infect vulnerable members of the household such as the elderly and those with comorbidities. Even if fully vaccinated, regardless of the brand, such adults can suffer Delta-driven breakthrough infections.
Doctors are also warning that while the adult vaccination rate has risen significantly in Metro Manila, the region has a high number of transient workers from neighboring provinces where the immunization program is still going slow. Health Secretary Francisco Duque, who co-chairs the COVID task force, also said he was not informed about the easing of facility quarantine rules on travelers arriving from certain countries.
Adherence to health protocols will allow for a safe economic reopening. Police, barangay and local government personnel will have to intensify efforts to strictly enforce not only physical distancing and mask wearing but also adherence to capacity limits.
Under Alert Level 3, therapeutic massage spas, gyms, casinos, gaming arcades, billiard halls and internet cafes, among others, will be allowed to reopen. Without adherence to COVID safety protocols, these could become virus transmission hotspots. People must be warned that a resurgence of infections can lead to a return to restrictions and livelihood disruption. And people must not forget that the coronavirus remains infectious and deadly.