EDITORIAL - Waiting for the vax cards
October 11, 2021 | 12:00am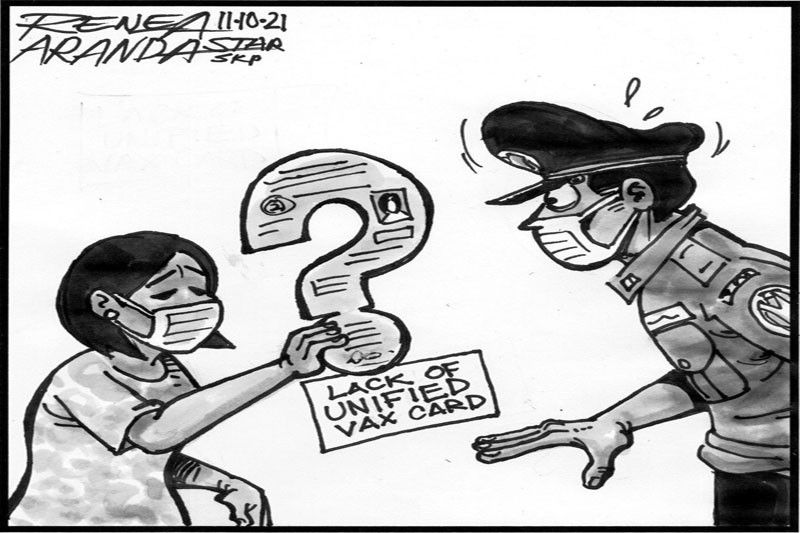 Maybe the official who was supposed to be in charge was busy preparing for his comeback bid for the Senate. The government said it would begin issuing uniform vaccination cards in September. Yet here we are, in the fourth quarter of the year, and all that has been rolled out is the yellow vaccination card for departing overseas Filipino workers. There are only a few thousand such OFWs.
The yellow cards were rushed by the Bureau of Quarantine only after Hong Kong refused in August to recognize the different vaccination cards presented by arriving Filipinos, which were issued by different local government units and even hospitals authorized to administer the jabs. Hong Kong reportedly rejected the cards because these were not connected to a single source and could not be checked for authenticity.
Local government units have pointed to the Department of Information and Communications Technology as the agency responsible for issuing uniform vaccination cards. The DICT, in turn, has blamed LGUs for the slow uploading of vaccination data or interconnection of local data systems to the database of the department.
The uniform vaccination card is important since the numerous cards available, with no security features, can be easily forged. People are faking the results of RT-PCR tests. What will stop them – especially the anti-vaxxers – from faking vaccination cards?
Forgery of vaccination cards can sabotage economic reopening, which hinges on progress in the COVID inoculation campaign. Incentives such as free bus rides and store discounts are now being offered to the fully vaccinated. At the same time, there are proposals to restrict the mobility of the unvaccinated, for their own protection and for those who have been fully jabbed. The reliability and security of data contained in the vaccination card is critical for recovery, both in terms of public health and the economy.
The lack of urgency on the part of the government in this effort is also seen in contact tracing. This is supposed to be a critical component of virus containment. Yet a year and a half into the pandemic, the country's contact tracing capability has become a joke. This weakness has been one of the reasons for the variant-driven deadly COVID surges that forced a return to economically crippling lockdowns last summer and in the past two months.
Unfortunately, with the administration distracted by its aspirations for continuity in 2022 and fighting with the Senate, there could be little improvement in the COVID response.