EDITORIAL - Further reopening
October 10, 2021 | 12:00am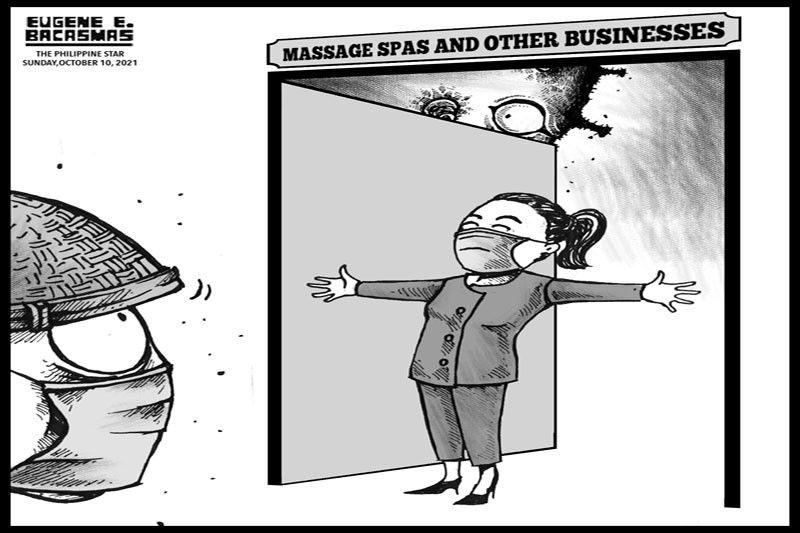 Healthcare frontliners are against it, but the government wants to revive more jobs and is considering proposals to allow the reopening of more personal care establishments such as therapeutic massage spas as well as cinemas and gaming arcades.
The government is considering the move even while Metro Manila remains under Alert Level 4 and average daily new COVID cases nationwide were above 10,000 in the past seven days, with deaths breaching 39,000.
Healthcare workers have pointed out that while infections are slowing down, the surge driven by the highly transmissible Delta variant is not over. On the other hand, the government must continue the delicate, difficult balancing act of protecting lives and livelihoods.
If the proposal for further reopening is approved, authorities must make sure capacity limits and mobility restrictions will be properly enforced, particularly on the vulnerable segments of the population: minors, who are the top patrons of gaming arcades but are not yet included in the vaccination program, and the elderly with comorbidities.
A year and a half into the pandemic, most people have had personal or close brushes with COVID-19, with many losing loved ones and friends to the disease. Consequently, even when mobility curbs are eased, people themselves continue to restrict their activities.
We saw this when several top hotels were allowed to open for "staycations" but there were few takers. We continue to see this in the tepid response to the easing of indoor dine-in regulations and expansion of capacities for hair and nail salons. Some therapeutic massage centers have reopened on the sly in the past months but were forced to shut down for good due to the lack of patrons.
Even fully vaccinated adults worry that they might still be carriers of the virus and infect unvaccinated members of their household, particularly children. Significant progress in the vaccination campaign, which is expected to result in a substantial drop in infections, will give people confidence to increase their mobility and outdoor activities. In the end, only sufficient vaccines will pave the way for the full reopening of the economy.