EDITORIAL - Deputizing the military
September 28, 2021 | 12:00am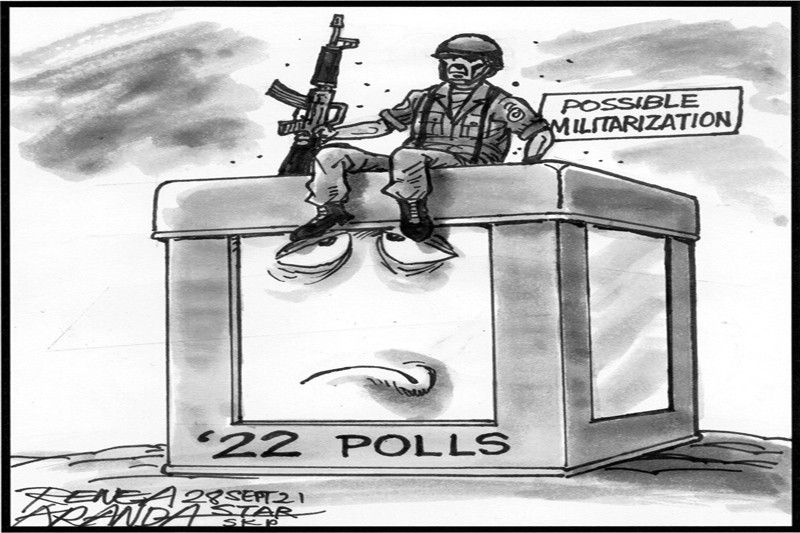 For many problems in this country, the administration seems to have a default response: call in the military. So it was hardly surprising that with reports of political violence starting, President Duterte warned that he was ready to "use the might of the military" to ensure that the 2022 general elections will be peaceful.
The Armed Forces of the Philippines has been deputized for this kind of work in the past, together with the Philippine National Police – but only the Commission on Elections has the sole authority to do so. This was the reminder issued by the Comelec in reaction to the President's warning.
A similar reminder was issued by legal experts, who pointed out that under the Omnibus Election Code, only the Comelec can deputize state security forces to respond to threats of violence and terrorism that could undermine the conduct of free and honest elections. The experts pointed out that during an election period, this function does not rest with the president.
The President has a valid concern about violence, which has marred practically every electoral exercise in this country. Addressing the nation last week, the President urged the people to avoid violence "or I will use the military to see to it that the election is free." He said he could call the military "any time to see to it that people are protected and elections are freely and orderly exercised."
There is a process stipulated by law, however, for deputizing the military and police for election duties. The process must be strictly followed especially since President Duterte, even if he is the commander-in-chief, will be a candidate in the 2022 general elections together with several of his children, and military deployment related to the vote cannot be tainted with partisanship.
Under the law, so-called election hot spots can be placed under Comelec control to prevent violence. The military and police in fact must be reminded that they are barred by law from engaging in partisan activities during election periods. They cannot serve as the private army of any candidate, and they must take their orders for any poll deployment from the Comelec.