EDITORIAL - Voter registration extension
September 23, 2021 | 12:00am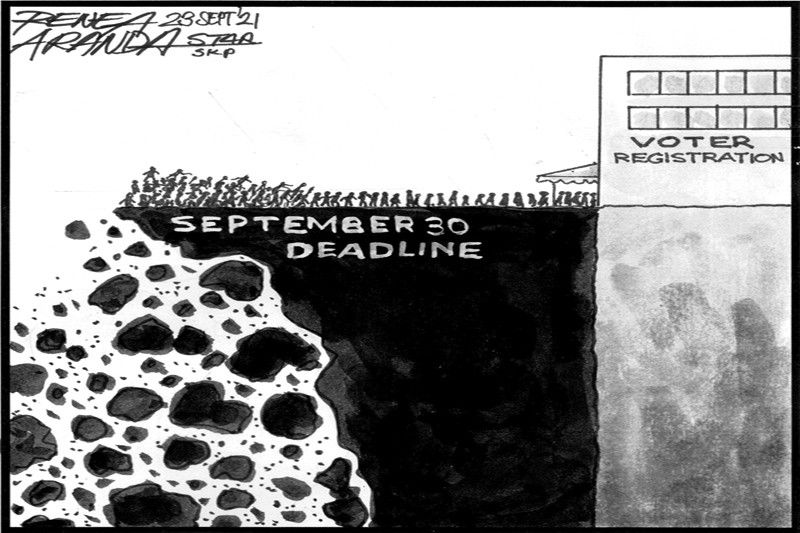 Key members of the House of Representatives joined the Senate yesterday in calling for a one-month extension of voter registration for the 2022 general elections. The Senate has passed a resolution urging the Commission on Elections to extend the registration by a month, to the end of October. The Comelec has said it is considering the Senate's call.
Filipinos tend to put off doing certain things that require dealing with the government until the last minute, such as filing of taxes. This time, however, lockdowns to contain the COVID virus have slowed down the registration of voters, both in the Philippines and among those working overseas.
The Comelec has been cool to an extension of the list-up, arguing that it would throw awry the tight schedule for preparing for the elections. The poll body also noted that as of last June, it had already exceeded its registration target of four million new and previously delisted voters. In these final weeks, the Comelec has extended registration hours to accommodate the crowds.
House Resolution No. 2231, however, cited data presented by the Philippine Statistics Authority at a Senate hearing last February, which projected a voting population of 73.3 million in 2022, while the Comelec had reported that there were about 60 million registered voters as of last June.
The poll body is expecting about 62 million voters in May next year. Seeing those long lines at the registration centers since the resumption of the list-up, however, the PSA projection could be closer to the actual number of eligible voters.
With both chambers of Congress now calling for an extension, the Comelec may consider a compromise and extend the registration period even for two weeks, until mid-October, with longer hours. This shouldn't prove too disruptive to the poll preparation schedule. Voter turnout has always been high in elections in this country; Filipinos like to exercise the right to vote. The once-in-a-century pandemic should not prevent the exercise of this right.