EDITORIAL - Burned out heroes
September 20, 2021 | 12:00am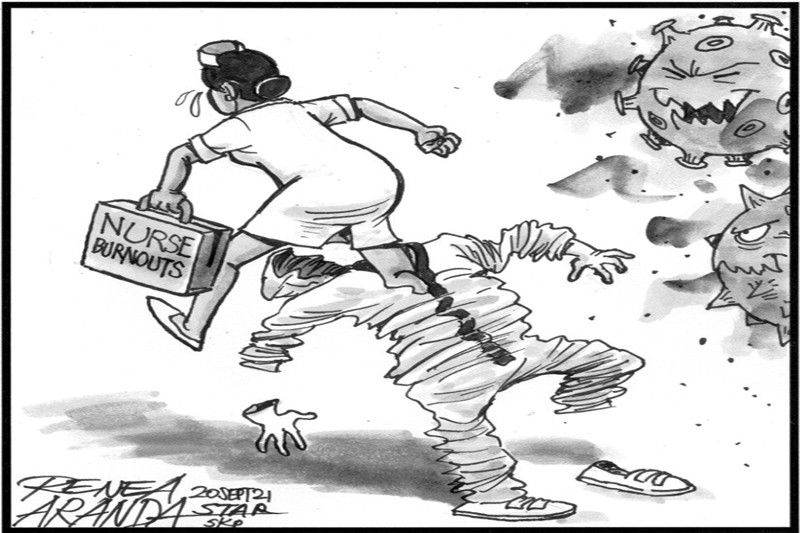 In the week through Sept. 18, new COVID infections nationwide averaged 20,218 daily. Many of those patients surely went to hospitals seeking confinement or at least for consultations. Can the country's hospitals handle that kind of caseload?
The government can tell hospital operators to increase their bed allotments for COVID cases. Hospital operators, however, have said that while this can be done, the problem is the lack of healthcare workers who can handle COVID patients. HCWs need special training for assignment in a COVID ward. But hospitals have been reporting that nurses in particular have been leaving in droves. And even before the pandemic, the country already lacked doctors.
This once-in-a-century health crisis should lead to reforms in the treatment of HCWs. Low pay and long hours are compounded by the high risk of COVID infection. These days the risk has been intensified by the virulence of the Delta variant, with breakthrough infections highest among HCWs with heavy exposure to COVID patients. Nurses and other HCWs worry not only about being infected but also bringing the coronavirus to their homes and endangering their loved ones.
Private hospital operators estimate that 40 percent of their nurses have quit since the start of the pandemic. The Department of Health estimates that about 109,000 additional nurses are needed amid the ongoing Delta-driven surge. The Philippine General Hospital, the country's main COVID referral center, needs not only nurses but also doctors.
Ironically, nursing organizations estimate that the country has 200,000 to 250,000 nurses who aren't working in their profession. Many are waiting for job opportunities overseas, where they also face infection risks, but under better working conditions and with substantially higher remuneration including hazard pay.
Hospital operators say their inability to hire more nurses and offer better pay in this crisis are among the consequences of the slow reimbursement of their claims by the Philippine Health Insurance Corp. Even business groups are urging PhilHealth to speed up the reimbursements, to enable hospitals to expand their COVID capacities during this public health emergency.
The government must also review its policy on hazard pay for HCWs in this crisis. Administration officials keep hailing health frontliners as heroes in this war against an unseen, deadly enemy. The officials should match their words with policies that show how they care for heroes.