EDITORIAL - Enforcing capacity limits
September 16, 2021 | 12:00am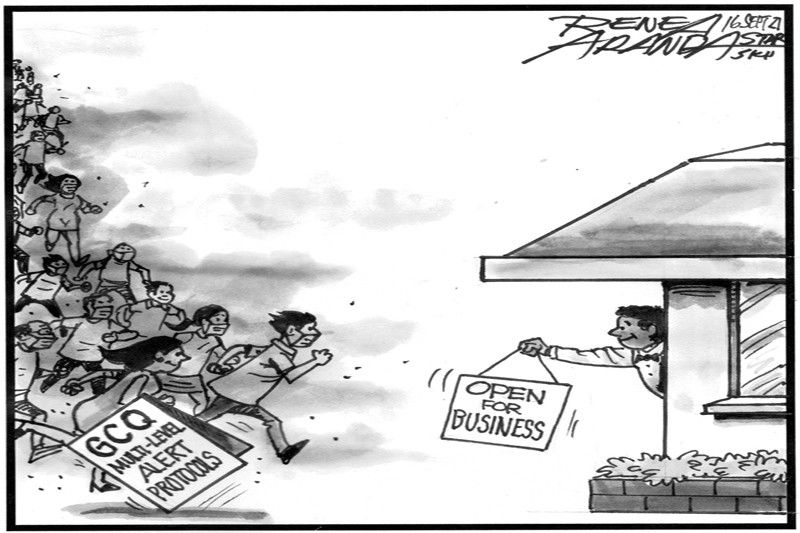 As in the previous COVID quarantine classifications, the new alert levels allow certain businesses and activities to resume, but at limited capacities. The restrictions are paired with granular lockdowns.
Beginning today, the National Capital Region is under the second highest Alert Level 4. This means COVID cases are high or increasing and hospital bed and intensive care utilization are high. But dining, barbershops, hair spas, nail spas, beauty salons and religious gatherings are allowed at 30 percent capacity outdoors. These are also allowed indoors, but only at 10 percent capacity and only for fully vaccinated individuals.
The capacities of course are increased under Alert Levels 3 and 2, from 30 up to 60 percent, with more businesses and activities allowed.
Or at least this is the idea, under the pilot-test in Metro Manila of the shift in quarantine strategy, which places emphasis on granular lockdowns.
Healthcare workers' groups have criticized the shift, which would allow greater mobility without corresponding increases in capacities particularly for COVID testing and contact tracing. The HCWs are also concerned about the capability of the government to monitor and enforce compliance with the capacity limits.
Businesses in malls are easy to monitor for compliance. But what about enterprises in stand-alone locations? The government must specifically assign the task to barangay personnel, who can monitor compliance with health safety protocols by micro enterprises such as personal care services and dining establishments.
In the past week, COVID cases nationwide averaged 20,680 a day. With the highly contagious Delta variant still on a rampage, the country cannot allow enterprises such as barbershops and beauty salons to turn into COVID spreaders. In testing the policy shift, the government must ensure compliance with capacity limits.