EDITORIAL - Delta and children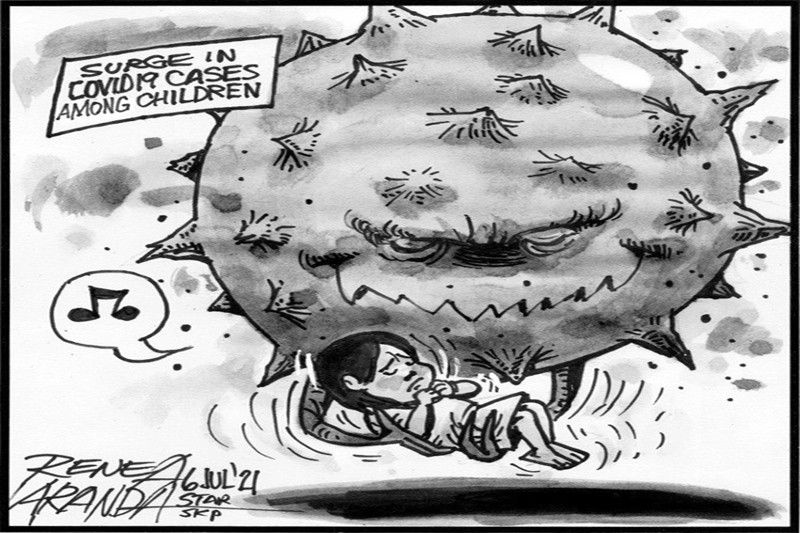 The viral load of the Delta COVID variant is so much greater than the original SARS-CoV-2 that it has managed to infect some fully vaccinated individuals and even children.
At the Philippine General Hospital, a COVID referral center, beds including intensive care unit beds for children with the coronavirus are now full. PGH officials have said the pediatric COVID cases include infants.
In other countries, pediatric COVID cases are also on the rise, attributed mainly to more infectious variants, prompting governments to seek emergency use authorization for certain vaccine brands on minors. In the Philippines, the Food and Drug Administration amended the EUA of Pfizer last May for the use of its vaccine on minors aged 12 to 15 years.
The country, however, does not have enough vaccines even for adults and priority groups. Apart from the risk of illness, children can also transmit the virus to vulnerable members of their household such as the elderly and immunocompromised.
Adults and local authorities must therefore ensure that during the two-week enhanced community quarantine or ECQ that starts today in Metro Manila to prevent the further spread of the Delta variant, children would strictly remain indoors.
Images in previous tighter quarantines in Metro Manila have shown children roaming the streets, particularly in informal communities. Barangay personnel are tasked to ensure that this time under ECQ, children would stay home. This is for the children's own protection and that of their households. The economically costly ECQ must not go to waste.