EDITORIAL - Safe voter registration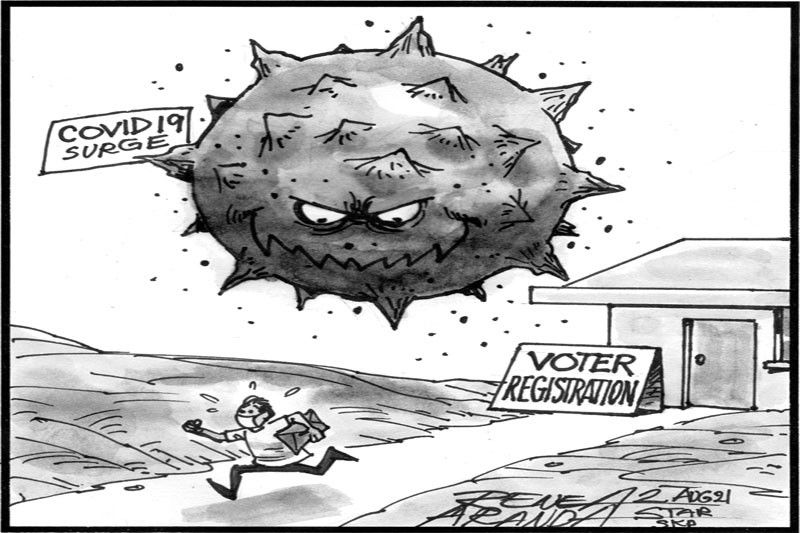 The approaching return to the strictest enhanced community quarantine will inevitably affect the ongoing voter registration, with only two months left before the deadline. Areas to be placed under ECQ including Metro Manila are sure to see a slowdown in the registration of new voters, according to poll officials.
The Commission on Elections has yet to announce whether registration will be suspended in areas to be placed under ECQ. The Comelec has stressed that there will be no extension of the Sept. 30 deadline for the registration, especially because it has already reached and even surpassed its target of four million eligible voters.
The registration, however, includes not just new voters but also people transferring from other voting districts and those who failed to cast their ballots in the last two elections. They may still want to beat the deadline, even amid the spread of the more virulent Delta COVID-19 variant. The Comelec will have to ensure that if the registration continues, it will be done in a safely hygienic environment.
There are no set appointments for the voter list-up, and there have been reports of people waiting in line for hours to register and have their biometrics taken. The same biometrics, incidentally, are being captured for the national identification system.
Infectious disease specialists have warned that Delta is multiple times more contagious than the earlier variants that were largely blamed for the deadly COVID surge particularly in Metro Manila from March to April this year. Delta is also causing more breakthrough infections even among the fully vaccinated.
The Comelec can coordinate with health and local government officials to ensure that even if registration continues under tighter restrictions, the activity will not turn into a virus super spreader. If the Comelec cannot promote a safer environment for registration, it should suspend the list-up during the ECQ.
When registration resumes, crowding and the usual last-minute rush must be discouraged or at least properly controlled. This is to protect not only the general public but also the Comelec's own personnel. Experts have issued sufficient warnings about Delta, and infection risks can be avoided.