EDITORIAL - Sea border control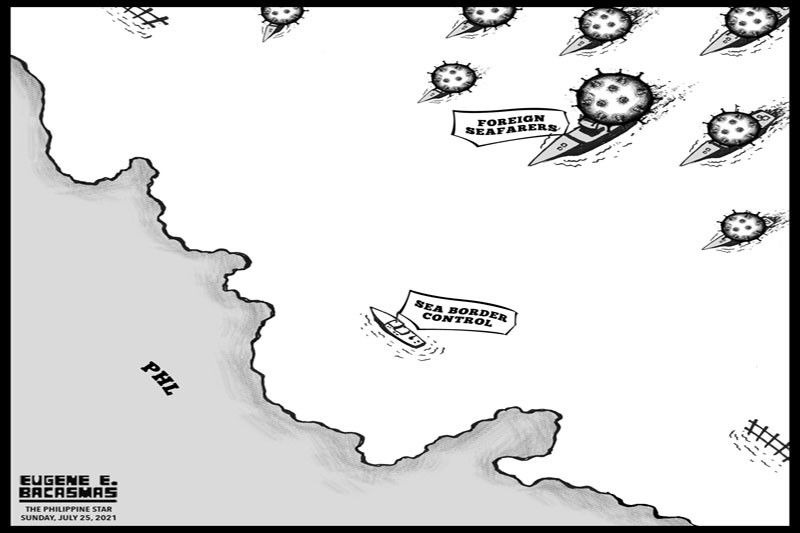 Local transmission, as defined by the Department of Health, means catching the COVID virus from someone with no history of recent travel abroad. Unlike in community transmission, however, the DOH explained that linkages are still evident in cases of local COVID transmission, facilitating contact tracing, monitoring of potential infection and testing, isolation and treatment.
So border controls have been tight at Philippine airports. With the spread of the more virulent Delta variant of COVID, however, and with neighboring Indonesia becoming the new epicenter of the pandemic, the Philippines is seeing the importance of tightening controls at seaports, particularly in the south where the borders are most porous.
With the country's extensive coastline, the task can be daunting. Maritime trade, largely unregulated, thrives in the islands and waters of the southern Philippines, Indonesia and Malaysia where Delta is also spreading. There is no language barrier among these traders. The porous borders have also been a boon for smugglers, pirates and Abu Sayyaf kidnappers.
Even when the vessels are registered commercial ships, such as the tugboat and barge with 12 COVID-positive crew that docked in Butuan earlier this month, port authorities have not been on high alert for the possible entry of infected crew.
The DOH has clarified that only one of the tugboat crewmembers had disembarked in Butuan, and he was quickly sent back to the vessel, with his contacts in the city being traced. The DOH also said that the city need not wait for 20 to 30 days, but only for about a week, to find out if genome sequencing detected the Delta variant among the samples taken from five of the crewmembers.
Still, the incident highlights the importance of keeping a close watch on seaports. Given the limited resources of the Philippine Coast Guard for maritime patrols, local government units in the concerned areas must play a pro-active role and conduct their own intensified watch over their seaports.
If Delta spreads in Tawi-Tawi, Sulu and Basilan, for example, the burden of containing the contagion will be heaviest on the officials themselves of the provinces. Delta continues to ravage Indonesia and is now forcing lockdowns in Thailand. The Philippines, already reeling from the loss of lives and livelihoods from the pandemic, must intensify efforts to prevent the entry of Delta from the sea.