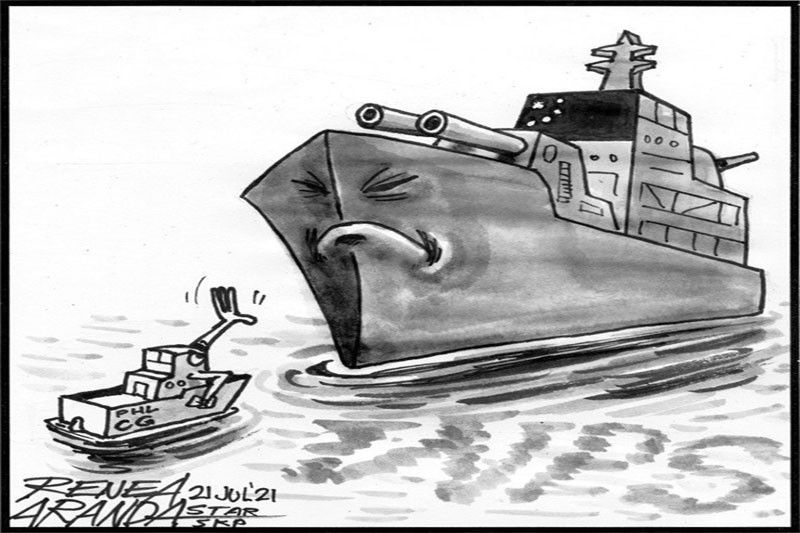 EDITORIAL - Naval intrusion
(The Philippine Star) - July 21, 2021 - 12:00am
In recent months there were swarms of Chinese militia vessels spotted in the West Philippine Sea. This time it was a Navy vessel of the Chinese People's Liberation Army that was spotted off Palawan and shooed away by the Philippine Coast Guard on July 13.
A Philippine Coast Guard handout photo showed the Chinese Navy warship 189 in Marie Louise Bank, located 147 nautical miles off the coast of El Nido in Palawan. PCG vessel BRP Cabra issued a radio challenge to the warship, which eventually moved away.
Last June 30, the Cabra had also chased away five Chinese ships and two Vietnamese vessels off Marie Louise Bank, asserting the Philippines' sovereign rights over its 200-mile exclusive economic zone, as defined under the United Nations Convention on the Law of the Sea.
UNCLOS served as basis for the 2016 ruling of the Permanent Court of Arbitration in The Hague, which invalidated Beijing's "nine-dash line" claim over nearly the entire South China Sea. The same ruling recognized the Philippines' sovereign rights over Panganiban (Mischief) Reef, which China currently uses as a military garrison, as well as Ayungin (Second Thomas) Shoal and Recto (Reed) Bank. The PCA also ruled that China has no right to drive away Filipino fishermen from Panatag (Scarborough) Shoal, declared as a common fishing ground.
Yet China continues to send not just small fleets of fishing boats to poach in Philippine waters, but swarms of militia ships numbering over 200. Now it has even sent a military warship near Palawan. The sight of that warship gives you an idea of why Filipino fishermen's groups have lamented the loss of up to 70 percent of their livelihood because they are being driven away from their fishing ground by the Chinese.
Yet the Duterte administration continues its love fest with Beijing. At last Monday's briefing, Defense Secretary Delfin Lorenzana, responding to a question from the President, said the Chinese warship left upon being challenged by the PCG because it did not want trouble involving a naval vessel, which would give credence to accusations of Chinese militarization in the Spratlys.
Apparently not getting the desired explanation from Lorenzana, the President's mouthpiece dutifully chimed in that it was also because the friendship with Beijing was working. If there is genuine friendship, a Chinese warship wouldn't enter the Philippine EEZ at will in the first place. Such intrusions show the cost of appeasement and capitulation to a foreign power.
What the PCG showed was that if the country wants to keep out intruders, it must be able to police its own waters. Intruders swarm Philippine seas because they can. It is the responsibility of the state to stop them.